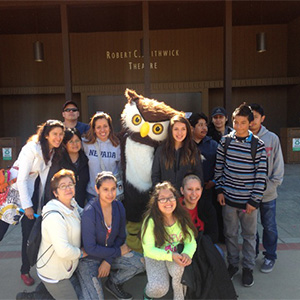 FEI students at Foothill College
The Family Engagement INstitute Makes a Difference
The Family Engagement Institute (FEI) was founded in 2010 with the goal of giving parents and caregivers the access, tools, and voice to support their children's education, while simultaneously supporting their own educational growth and development. That same year FEI began its partnership with Foothill College, whose leaders embraced FEI's Multi-Generational – Pathways to College For Two Generations model.
This model is based on the idea that in order to break the cycle of poverty and cultivate a college-going identity among children, we must start early and offer opportunities for continuing education to the whole family.
The partnership with Foothill College allows FEI to provide educational materials, toolkits and college faculty to deliver developmentally, culturally and linguistically responsive programs to underserved children in the community, and to invite family members to enroll at Foothill as community college students. When a child participates in the Stretch to Kindergarten program with FEI at a local elementary school, a caregiver or family member is required to register for FEI's non-credit parenting class taught by Foothill College faculty. Present in eleven local school districts, FEI has enrolled more than 6,500 students since its inception, making an impact on families all over the Silicon Valley.
With both children and families participating in classes, it creates a conversation around the value of education. Parents who spend time in their child's classroom do not experience the fear that many families have when sending their child off to school, and it empowers them to participate in their child's education
Angie Cortés had a career in dental assisting for 17 years. Because of her son's involvement in Stretch to Kindergarten, she enrolled in FEI's parenting course and became interested in early childhood education. Inspired by the FEI staff, she returned to school and earned a certificate from Foothill College's Child Development Program.
"The beauty of the Family Engagement Institute is that there is something for everyone," Cortés said, looking back, "and as a program they meet people where they are. The staff and faculty, as well as every participant, helps create a community where there is always someone to help when there's a problem."
Pedro Carbajal O'limon became involved with FEI when his wife asked him to volunteer as a translator in a Stretch to Kindergarten class. Originally a chef, Pedro was inspired to become a better parent through FEI's parenting class. Noticing his commitment to the program, FEI Executive Director Betsy Nikolchev hired him to work with students and families and spread the word in the community about the program.
This past summer Foothill College science instructors teamed up with FEI staff to recruit underserved and low-income students to the Foothill College STEM Summer Camp. STEM camp engages students in cutting-edge science such as 3-D modeling, video game design and forensic science. Many of the students recruited with help from FEI had never set foot on a college campus. Yet by the end of STEM camp, they were excited about careers and educational futures that they had never imagined before.
Carbajal O'limon recounted a story of a middle school student who came to camp this summer.
"He was standing in the crowded cafeteria, overwhelmed and frozen, with his $12 meal voucher in his hand," Carbajal O'limon recalled. "He didn't know what he wanted and Foothill College summer school students, ordering with ease, surrounded him. He got up the courage and ordered his lunch. The next day, he was more confident. The day after, a summer school student came up to him and asked him what classes he was taking over the summer.
"After this encounter he ran up to me and said, 'Pedro! He thought I was a college student!' From that moment on he saw himself as a college student, in a way that he hadn't before, because of the opportunity he had through FEI and the STEM summer camp."
Nikolchev, FEI's executive director, says it's experiences like this that drive her efforts to expand the partnership with Foothill and community to ensure educational opportunities for all families. Nikolchev began her career as an elementary school teacher. She now has more than 30 years as an administrator and FEI is the continuation of her life's work to develop and support a comprehensive approach to increasing access to education.
"When you include families in the process of accessing and engaging with education, you get better outcomes from students," Nikolchev said. That understanding is the basis for all of FEI's work.