Thank you to all our Legacy Circle members below who have been incredibly thoughtful in their estate planning.
Please consider joining our challenge by becoming a Legacy Circle member and check our planned giving resources today!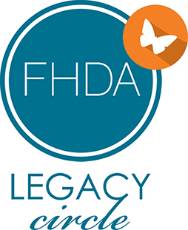 The Legacy Circle pays tribute to donors who have informed the Foundation that they have included Foothill-De Anza in their estate plans. Over the years the colleges have received more than $12 million from generous Legacy Circle donors who have provided for us in their estates. In turn these funds have supported hundreds of scholarship awards to students, helped programs like our theatre, fine arts, counseling and technology programs. These generous and visionary commitments play a critical role in ensuring the continued success of our future generation's education.
| | |
| --- | --- |
| Patrick Ahrens | Mel & Mady Kahn |
| Mani & Rajeshwari Ayyar | Martha Kanter |
| Fred Bach | Liora Keller |
| Chris & Susan Barker | Gay & Bill Krause |
| Becky Bardindale & Brandon Bailey | Nicol Lea & Jack Herris |
| George & Betsy Bechtel | King & Ginny Lear |
| Cynthia Beeman | Orrin & Carolyn Mahoney |
| Judy Bradley & Dave Mitchell | Mary McClure |
| William Bryan | Peter Mills |
| John Burt | Judy C. Miner |
| Roberta Colin | Richard & Gloria Mitchell |
| Mary De Masters | Joseph & Lynn Pinto |
| Deborah Dexter | Lillian Quirke |
| Jeff Dickard | Ann Rando |
| Daniel Facciola | Kathleen & Mark Santora |
| Robert & Jan Fenwick | Ed & Jane Seaman |
| Bernadine Chuck Fong & Herbert Fong | Eugene Seelbach |
| Ann Gallagher | Jeanne Seeley |
| Dianne Gershuny | Frances Seward |
| Dick Greif & Shirley Sparks-Greif | Richard Stafetas |
| David Grillot | Dorothy Stauffer |
| Jo & Bruce Hamilton | Bradley & Edwina Stoll |
| Sam & Janet Harding | Darryl & Dorothy Stow |
| Michael & Margaret Herzen | Dan & Maureen Svenson |
| Gordon Holler | Art & Terry Swift |
| Julia Hsiao, JD | Penny & Buzz Thayer |
| Rich & Donna Hulsker | Thomas & Elizabeth Vician |
| Linda Huntimer | William Wagner |
| Jeff & Cheryl Hylton | Sharon & Jim Walker |
| Dan & Barbara Illowsky | Kristin Elisabeth Wiehe |
| Tamara Ivanitsky | William Yee |
| | |