Scholarships
Scholarships and Vouchers – Assistance that makes the difference
The Foothill-De Anza Foundation is committed to promoting the highest levels of student success. Our efforts and your charitable gifts make possible scholarships and other financial assistance that allow thousands of students to advance their postsecondary education. The foundation's focus on student success ensures the greatest educational impact of every donor dollar.
Last year alone, the foundation provided more than $3 million in program support including scholarships, book vouchers and stipends to Foothill and De Anza college students. Adequate financial support is a key element in academic success. Again and again our scholarship recipients tell us that when community members invest in them, they are motivated to continue their education.
Many of our students are economically disadvantaged, first in their families to attend college or single parents. Some struggle academically. Donations to the foundation help support student success programs that connect these students to supportive communities of counselors, advisers, tutors and study groups.
Donors can give a gift of any amount to existing scholarship and book-voucher funds, or create and endow a named scholarship. For more detailed information on scholarship giving click here.
Faculty Support
Teaching & Learning on the Cutting Edge
Gifts to the foundation support faculty in developing new curriculum that encourages critical thinking, problem solving and a lifelong love of learning in our students. Our instructors choose to work here because they love to teach. They understand that Silicon Valley's students must learn to communicate, collaborate and innovate to meet our evolving workforce needs. Foothill-De Anza faculty members contribute regionally, nationally and internationally to the scholarship of teaching and learning.
Foothill music instructor Dr. Elizabeth Barkley is known worldwide for her expertise on engaging students. Author of two best-selling books on effective teaching, Dr. Barkley has won many teaching awards including California Professor of the Year from the Carnegie Foundation for the Advancement of Teaching. She's served as a Leadership Fellow through the American Council on Education and was named a Carnegie Scholar in the discipline of music with support from the Pew Charitable Trusts. Our students agree. She is an awesome teacher!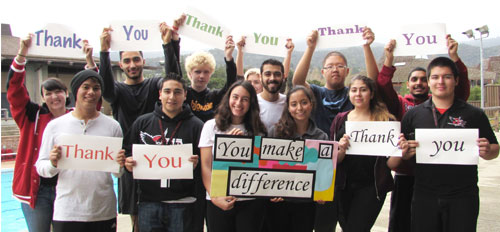 Special Programs
Where Education Meets Innovation Meets Excellence
Fostering a culture of innovation and excellence. Students come to Foothill-De Anza for forward-looking programs, because of our excellent reputation in the community and their confidence that the skills they acquire here, will be sought after by Silicon Valley employers.
Workforce Development Programs and Initiatives
Our ongoing engagement with the region's globally competitive companies helps meet their demand for skilled workers and reduce recruitment costs. For many employees, Foothill-De Anza provides the knowledge and skills to advance careers as well as to stay economically productive at a time of economic change. Our state certification programs, which enjoy a nearly 100% passing rate, help maintain the region's economic and employment diversity.
Krause Center for Innovation
K-12 educators come to Foothill's Krause Center for Innovation to sharpen their teaching skills and discover new ways to harness technology to capture the imagination of today's students. Serving over 14,000 teachers since 2000, the Krause Center provides innovative professional development to help educators transform their teaching practice. Click here for more information on the Krause Center for Innovation.
Vasconcellos Institute for Democracy In Action
We also champion engagement with local communities. Since 2005 De Anza's Institute of Community and Civic Engagement, renamed the Vasconcellos Institute for Democracy in Action in 2015, (VIDA) has initiated dozens of projects and initiatives designed to empower students to become agents of change in their communities, foster education that meets the needs of the communities we serve and develop pathways to participation in local, state and federal government decision-making. In fact, De Anza is one of the first community colleges to offer a certificate in Leadership and Social Change. Click here for more information on the Vasconcellos Institute for Democracy in Action.
Kirsch Center for Environmental Studies
Our modern campuses function as living laboratories for students. Leading the way is the Kirsch Center for Environmental Studies. Opened to students in September 2005, the Kirsch Center is the lead demonstration building for energy, innovation, and sustainability in the California Community Colleges system, and the first community college building in the nation to achieve LEED Platinum status. Today, the Kirsch Center is a statewide training center for energy professionals and building facilities staff. The department offers a rich curriculum focused on environmental sustainability and partners with community organizations to give students real-world experience through projects like field study in the Coyote Wildlife Corridor in Santa Clara Valley. Click here for more information on the Kirsch Center.
Science Learning Institute
Foothill's Science Learning Institute is committed to diversifying STEM by supporting students from underrepresented groups in their pathways toward earning degrees in STEM disciplines and entering STEM careers. SLI programs include TechCore, a cohort program for students earning an Associate Degree in Computer Science, summer STEM internships, and new opportunities to increase exposure and participation of youth in STEM. Click here for more information on the Science Learning Institute.
Goals & Milestones
Clear Priorities, Solid Returns
Foothill-De Anza Foundation proudly supports two of the most distinguished colleges in the California Community Colleges system. Since 1975, the Foothill-De Anza Foundation has raised millions of charitable dollars in funding that benefits Foothill and De Anza students in a host of ways. The vision of the
Foothill-De Anza Foundation is a national model for multi-faceted collaboration in building outstanding success. We are accomplishing this by:
Singular source for student success
By providing support ranging from supplies and stipends to internships and scholarships, we make a critical difference in the academic lives of thousands of students every year – and enable the colleges to deliver on their core value of open access to everyone.
Bringing the power of community, faculty and partners together
Championing the colleges today and tomorrow, we forge the relationships that help us stay at the educational forefront.
Ensuring a strong sustainable future for an
educational cornerstone of Silicon Valley
As new programs and facilities create new opportunities to excel, we find the resources to realize them.