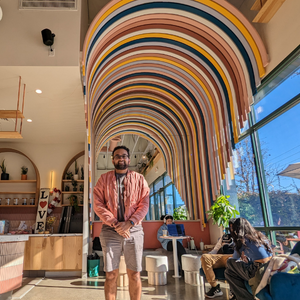 Voyager Coffee owner Sameer Shah standing in the Voyager Cupertino Location.
De ANza Alumni Serves Community...Coffee!
For Voyager Craft Coffee, everything starts with community.
Voyager was founded in 2016 by Sameer Shah, a De Anza College alumnus, and his wife Lauren Burns. It began with the hope of bringing a passion for travel and coffee to Santa Clara County.
"Back then we didn't know what we were doing. We had a good team and good support though, even at that point, from our community," Sameer said.
Standing under the arches in the new Cupertino location, he happily realized that his design mimics the arches at De Anza and reflected on the impact De Anza had on his life "it was the best instruction I ever experienced."
The team is excited about the success of their newest location, just down the street from De Anza College on Steven's Creek Boulevard which opened in June of 2022. Sameer still can't believe how busy the store is saying, "we really have the community to thank for that."
After graduating from De Anza, Sameer transferred to USC. He continues to give back to De Anza through Voyager by employing students and providing a welcoming space for students to study or meet for group projects.
Sameer and Lauren are now about to open their fifth location, a warehouse where they will have a centralized roasting and baking facility, with an additional small café.
"We always knew we wanted to roast our own coffee. Once we figured out the basics of running our shops, we wanted to learn more about the whole roasting process and start to build some relationships at the farm level and make things a little more equitable for the farmers and co-ops where the coffee came from," said Sameer.
Although Voyager has been roasting and selling coffee since its second year in operation, this new warehouse will expand opportunities for current staff to learn new skills.
"I think that's going to be good for our team. Many of them are interested in expanding their skill set, getting into roasting, or getting into baking, and the new space will let them do that. We're just really excited for it," said Sameer.
When asked what he was most proud of, Sameer said, "maintaining a good team culture. Building something that people are happy and proud to be part of."
A quote from their website sums up the Voyager mission and highlights the value they bring to Santa Clara County. "We've grown a lot over the years, but who we are at our core hasn't changed one bit. We wake up every day with the goal of spreading as much love and kindness within our community as possible."
Until April 10, 2023 get 15% off your online order by using the code FHDA! Go to https://www.voyagercraftcoffeeorders.com/