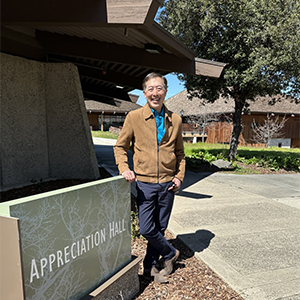 Foothill Alumnus Bill Yee in front of Appreciation Hall
Foothill Alumnus Gives Back through Bequest Intention
"Amazing things can happen from being at Foothill," said alumnus Bill Yee, who credits Foothill College with giving him the opportunity for a successful career in the technology sector.
Bill, the son of Chinese immigrants, grew up in East Palo Alto and was the first in his family to attend college. Bill worked five days a week while attending Foothill because his family could not afford to put him through school.
Originally intending to be an art history major, Bill also had an interest in STEM and was able to take programming classes at Foothill from Steven Lawlor, whom Bill credits with helping him develop an interest in the tech sector.
Bill applied what he learned in Lawlor's classes to art history and developed a self-paced, interactive computer program to help art history students learn the curriculum. Bob Fairall, Bill's art history instructor, was so impressed with Bill's program that he began to use it as a tool in his art history classes.
Recognizing Bill's talent for computer programming, Fairall encouraged Bill to minor in art history and major in STEM. Although he followed Fairall's advice, Bill still considers Art History 1A his favorite class at Foothill. He remembers that on the first day of that class, Fairall locked the doors of Appreciation Hall at 9 a.m. sharp, telling his startled students that his message was quite simple — if he committed in every way to his students' education, then the students should show a similar commitment by being on time. That message signified to Bill that Professor Fairall was serious about teaching and really cared about the students and wanted them to learn.
In another serendipitous turn, Bill discovered an aptitude for business strategy during business classes at Foothill that ultimately led him to work at the consulting firm Bain and Company after his graduation from Santa Clara University. In what he thought was a big gamble at the time, Bill followed one of his colleagues from Bain into the tech sector, taking a 50% pay cut to work at the startup Yahoo! In 1999, just 20 years after leaving Foothill and a few years after Yahoo! went public, Bill was able to retire and join his wife in caring for their children and their parents.
Bill is providing for Foothill College in his estate plan because teachers at Foothill, especially Bob Fairall and Steven Lawlor, changed his life. He sees his bequest as a way to give back to the institution that set him on the path to success, a view that exemplifies Bill's philosophy that we all have a responsibility to change whatever we can in our own little piece of the world to make it a better place.