Alumni Corner
Name: Mimi Nguyen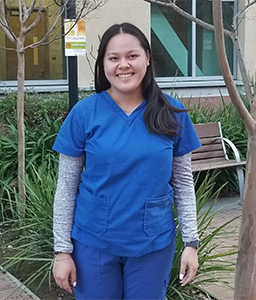 Current Title: Pharmacy Technician Kaiser Permanente
What have you been up too since your time at Foothill?


I graduated from the Pharmacy Technician program at Foothill College with an A.S. degree in 2015. I got a job right away at Kaiser Permanente in Santa Clara as a pharmacy technician.
How did Foothill impact where you are in your career today?


Being the first generation to go to college was a challenge. But, thanks to the two inspiring instructors of Puente, who gave me an opportunity to be part of the program, I was encouraged and motivated to achieve my goals and dreams. Foothill/Puente also positively impacted my life because it was where I met my soon to be husband, David Guereca.
What advice would you give to other alumni or current students who aspire to follow a similar career path?


"If there is no struggle, there is no progress."- Frederick Douglas. I learned this in Susie Huerta's English class and it's what got me to where I am today. Don't let anything stop you from getting what you want. There is no excuse to why you can't or couldn't do it. Nothing comes easy. But, if you put your heart and mind to it and be positive even if when you get obstacles thrown at you, anything is possible.