Foothill-De Anza Foundation Guest Blog
July and August 2016 - Student Expedition to Turkana Basin, Kenya

The Foothill-De Anza foundation has provided four De Anza students; Michelle Bounkounsohn, Vincent Gomez, Viana Roland and Christopher Mayes an unimaginable opportunity to partake in a fieldwork project at Lake Turkana Basin, Kenya. As the Second Group of Students to Embark upon this paleontological expedition sponsored by The Foothill-De Anza Foundation they invite you to accompany them, through their writing, on this journey to self-discovery. This Expedition was also partially funded by the national geographic society.
Blog Posts Week Four -
Michelle Bounkousohn

Last night, a storm rolled over our campsite in Buluk. I woke up at 1:00 AM to a fine, cool mist on my face, followed by blinding flashes of white and thunderous booms that seemed to shake the whole valley. After this near-apocalyptic scene, I was pleasantly surprised this morning to wake up to a Buluk that did not just somehow remain intact following the storm, but a Buluk that seemed to be teeming with life. Our Land Rover rolled over streams that had been dry, ancient riverbeds just the day before. As we drove back to base camp, I was surprised by how a single rainstorm had transformed Buluk from an arid desert to the oasis that seemed so capable of sustaining the organisms we were discovering in our fossil excavations: ancient hippos and elephants, monkeys, crocodiles. We spotted kites, hornbills, gazelles, hares, and jackals during the bumpy ride back. I sat in awe-filled silence as I realized how resilient and beautiful the flora and fauna in Buluk were to survive and thrive in a climate like this.
With every day in the Turkana area, I become increasingly humbled by the improbability of an opportunity like this. I learned in passing that Professor Nengo is one of the leading Kenyan experts on Miocene primatology, and, from conversations with our campmate who finishing his PhD in paleoanthropology, learned that an opportunity to join in on a research trip like this without any experience is unheard of in the anthropological world. The importance of this work, combined with my inexperience, both terrifies me and empowers me. I am frightened by what I don't know, but inspired that Professor Nengo believes in us students enough to bring us here and teach us to succeed in the field. After an uneventful week of prospecting for fossils in the harsh, direct sunlight without finding any meaningful fossils, I found a teeny primate molar during one of our excavations. I had begun to completely doubt my capabilities and future in anthropology, until the moment I was lucky and sharp enough to notice the small, shiny tooth the size of a bead.
I'm starting to accept that I belong here and that I'm a worthy member of this expedition. Before this trip, I was an unsure anthropology major, and now, I spend my downtime at camp getting lost in anthropology books and thinking about what I should research for my master's thesis or dissertation. I am exceedingly grateful to be here, and although I can't wait to come home to the States, I am absorbing and appreciating every minute that I'm here.
Viana Roland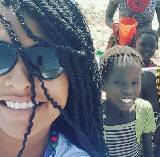 It was a fantastic week for paleoanthropology because we found over 15 primate specimens! Primate fossils often lead to grants, allowing crucial projects like this to continue. I'm so honored and excited to be a part of a project like this.
As the weeks progress I find myself getting much closer to the other members of the team and crew. We have been exchanging and sharing cultural norms and stories from our lives. One nice thing about rotating four Kenyan National police officers every week is that they are from all over that county and belong to different tribes. (There are 43 different tribes in Kenya alone!) They are able to talk about some of the norms, practices and traditions in their tribes, which lets me compare across the other tribes and even my own culture. Many of them have windows phones so we have been able to bluetooth music and photos from our phones to one another. That has proved to be an excellent way to collect some great Kenyan music to listen to when I get back to the states. Music has always been a great way to connect to people across cultural divides.
On the first day of Professor Nengo's physical anthropology class, I was so ecstatic that I had my first black teacher AND African teacher. Never before in my life did I have a person of color as a teacher or in any position of authority in any schools I attended. It may not sound like much but it really means a lot and it has really inspired me. You can tell that it also means something to the rest of the team to have a fellow Kenyan in charge of the whole project, that is something they are also not used to. The history of anthropology is a history of mainly white men, or the old boys club it is sometimes referred too. Despite the fact that I am an Afro Latina woman I am here and I now understand that I can do anything I put my mind too If I work hard enough.
Chris Mayes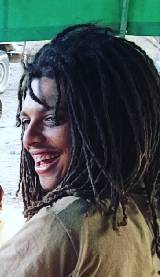 When we first arrived at Buluk the days seemed to go by extremely slow. Now that we have been here for nearly four weeks on a tight schedule, the days seem to be flying by. I am coming to grips with the fact that we will be leaving in roughly twenty days. I wish we could stay longer. The more I learn about The Turkana Basin institute, the Leakey Family, human evolution, and paleoanthropology in general, the more interesting and fun the work that we do everyday becomes.
This week we continued excavating at The Dead Elephant site as well as sifting at a site known as Shadrack's Mandible. Upon arriving at the Dead Elephant site on Wednesday, we discovered that a hyena had attempted to eat one of our recently excavated bones as well as a kneepad overnight. We were amused at the fact that the hyena had enjoyed a sixteen million year old meal but we were also disappointed that such a big, well-preserved bone had nearly been destroyed especially knowing how hard my team member John Ekusi worked at excavating. Nonetheless, the bone was glued back together and we went about our work, clearing layer after layer of sand and rock.
At the Sharack Mandible site, we found many primate tooth fragments as well as fossils from other animals like pigs and turtles. Ekusi even found a fossil from a primate finger, which was really cool. Ekusi is sort of a fossil finding champion and I always find inspiration through him whether it's from him finding primate teeth or through his words of encouragement. This week we learned that the Leakey family along with some friends would be flying into The Dead Elephant site. I'm excited to get the chance to be in their presence, let alone meet them. The fact that they are personally flying in via helicopter lets me know that the work we are doing here at Buluk is serious business and I am honored to be even a small part of this ongoing project.
Vincent Gomez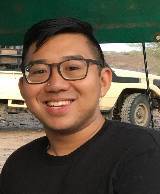 I would have never thought that I was going to experience an African rainstorm, but I did, and it was scary. At first it was just little droplets of rain that fell on my face as I slept in my tent around midnight. Then suddenly, it was as if all hell broke loose and the rain just started pouring incessantly. I have never gotten up so fast in my life. It was a straight sprint to zip up every flap of my tent and to get the rain tarp situated right so water wouldn't get in. I could hear everyone else around me in panic mode trying to do the same thing since the storm was completely unexpected. I was drenched by the time I zipped every flap and returned back into the safety of my tent. Cue the thunder and hurricane like winds. I was terrified. I didn't want to go outside and check on how other people were doing, since the thunder and lighting sounded like it was so close to us. Being in the desert that is Buluk, it's easy being the tallest thing in sight and I wasn't going to risk it. I woke up next morning sleep deprived and wet. It was a harrowing experience nonetheless.
Other than the harrowing rain storm, this week we worked on both excavating and prospecting. We split up in two teams and I joined the prospecting team. I like prospecting. It's rigorous and requires immense mental and physical concentration and that's why I like it. I feel like I'm pushing myself to my limits every time I go out into the bush.
I like the fact that we travel so far, and how adventurous is feels climbing up mountains and going down valleys. I could see that the Chris and the other fossil hunters enjoyed it as well. We wanted to find a skull so bad and I can feel the determination in the air. My fellow students Viana and Michelle joined Professor Nengo and the other fossil hunters at the excavation site. Apparently a hyena visited the site at night and chewed up a bone left out which had to be put back together with glue. The excavation site was a little torn up by the unusual weather and the hyena attack did not help, but everything got situated at the end of the day.
Overall, I'm really happy about how fast I'm learning. I can tell that the other Kenyan members of the team, John and Longerecho, appreciate my determination to learn and to be like the great fossil hunters that they are. I'm ready to do the best I can to find that skull!