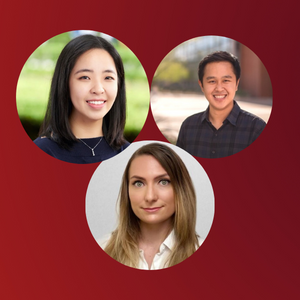 Institute for Research in the Social Sciences Interns Hardian Thamrin, Andrea Goepel and Yiran Wang
FOothill partners with the Stanford institute for research in the social sciences
For many students, taking an unpaid internship is a rite of passage, an opportunity to have a glimpse into their future career. But for some students who are the first in their families to attend college or those with financial obligations, an unpaid internship is not an option. The reality is that many of our students are supporting their families or paying expenses on their own and must piece together a steady income.
Both Stanford University and Foothill College recognized that this financial barrier prevented exceptional students from participating in the Research Assistant Internship Program run by Stanford's Institute for Research in the Social Sciences (IRiSS). The unique eight-year-old program matches Foothill students who are interested in social science research and careers with internships in Stanford social science research labs in their areas of academic interest.
For the first time, thanks to funding from Stanford's Office of Community Engagement (OCE), 10 students from underrepresented and underserved populations will receive paid internships in the research assistant program. In addition, the Foothill-De Anza Foundation is contributing $15,000 during the academic year and is seeking matching funds to expand and sustain the paid internship program.
Hardian Thamrin, a former Foothill research assistant intern, said his experience as a research assistant intern at Stanford was career-defining.
"The Social Science Stanford Internship Program made me realize that I enjoyed conducting research and wanted to pursue that further," he said. "The program subsequently opened a lot of opportunities once I transferred, since I was competitive enough to be admitted into research labs as a research assistant. Without the program, I would have not been able to pursue my doctoral degree now."
Thamrin is currently pursuing a doctorate in psychology at Arizona State University. After attending Foothill, he transferred to UCLA and earned a bachelor's degree.
Participants in the Research Assistant program have meaningful experiences that lead to further academic success, with many transferring to four-year universities, including Stanford.
It's clear that access to these opportunities is critical and that these internship opportunities shape the paths our students take. "Uncovering Hidden Talent," a Boston Foundation research report examining the importance of internships as springboards to successful careers, concludes that internships – especially paid internships – are particularly important for community college students who historically "have had little access to the internship opportunities and the social networks that their counterparts at four-year colleges may take for granted."
Open access education is part of the core mission of Foothill College. The students who are involved in these internships at Stanford go on to careers across the Silicon Valley and around the globe. By participating in critical real-world research, Foothill students learn that they can reach goals they never thought possible. Providing an opportunity to collaborate with Stanford scientists demonstrates that all it takes is one experience to change the trajectory of someone's life.
Stanford's contribution of 10 paid internships, coupled with the Foothill-De Anza Foundation's financial support, is an important start. Additional funding is needed to ensure that more students can participate in the future. Those Interested in giving a gift may contact the Foundation's Leigh Howell, director of development for Foothill College, at howellleigh@fhda.edu.