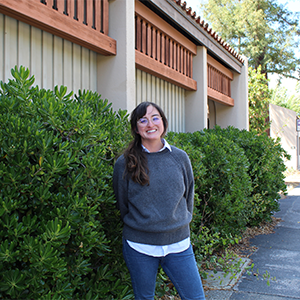 Alum Danielle Padron
Coming Full circle, Alum Danielle Padron is now an Instructor
To understand how much Danielle Padron loves microbiology, you have to know that in order to study it she commuted to De Anza College from Modesto via public transit, a trip that on some days took more than four hours. "I'm glad I did because the instructors are amazing," she said.
Her path to De Anza and microbiology was anything but straight.
After completing her bachelor of science degree in Environmental Toxicology, and a minor in Chicana/o Studies from the University of California, Davis, Danielle wasn't sure what career path to take. She applied for many jobs and was told she did not have the right qualifications. In need of employment, she pursued a phlebotomy certificate. After receiving her phlebotomy license, she managed to land a job at a medical lab and realized she absolutely loved laboratory science.
Eager to learn more about the field, she researched the two clinical laboratory science programs at universities in Northern California, one at San Francisco State and one at San Jose State, and realized she'd need to take two prerequisite classes to be eligible for the program. Both classes were offered at De Anza through the Medical Lab Technician (MLT) program.
Danielle credits MLT director Patricia Buchner with launching her career. "Patricia knew exactly what she was talking about, because she had worked in a lab," Danielle said. "She really used her experience to help students get as much out of the class as they could."
It was in MLT courses that Danielle first realized her passion for microbiology. "Microbiology was the first class I took, and it was so exciting to learn how to identify different organisms and work with microscopes," she said.
After completing her course work at De Anza, Danielle applied to both clinical laboratory science programs in Northern California and was accepted to both. She decided on the program at San Jose State. The Clinical Laboratory Science Training program at San Jose State trains students to pass an exam by the American Society for Clinical Pathology. Part of that training involves working in different labs on rotation. For Danielle, her experience in Stanford Health Care's microbiology lab quickly confirmed her desire to build her career in microbiology.
Thankfully, the Stanford microbiology lab agreed, and after her training was complete and she had passed her certification exam, they hired her to join the team. Danielle loves working in the lab, and she got the opportunity to share her passion when she was asked by her former mentor Patricia Buchner to teach the Clinical Microbiology classes for the MLT program.
Asked about transitioning from being a student taking classes to becoming an instructor for those classes, Danielle said, "It was surreal, and I honestly didn't think it was going to happen so fast. Literally every night before the lecture I was rehearsing, I was updating, and I tried my best to give the students the best knowledge I could but as simply as possible, too, because I wanted the material to be approachable and not overwhelming."
Danielle's advice to students who want to follow a similar career path is to follow their passion.
"Take the time to figure out what you find interesting, what really engages you," she said. "Because if you enjoy what you're doing you won't get burned out and your work will be more rewarding."