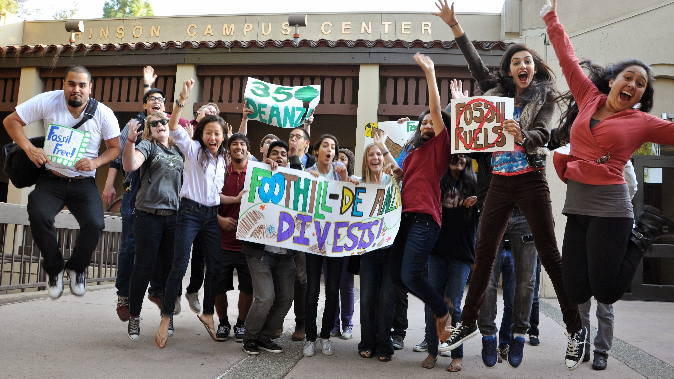 De Anza students showing their support at the October 2013 Foundation Board meeting where the board voted to divest from fossil fuel companies.
What Carbon Footprint?
In fall 2012, a political science assignment rapidly grew into a campus-wide discussion. Students of the Poly Sci class in question were challenged to apply citizen advocacy and organizing skills towards solving an environmental problem. The result was a campaign geared toward green living and divesting from companies with fossil fuel holdings. Organized by a handful of students, the resulting campaign gathered support across the campus and won endorsements from student governments at both Foothill College and De Anza College.
The FHDA Foundation soon took notice and agreed to meet with campaigning students at an August 2012 panel.
"As an institution invested in future generations and our local community, we feel strongly that divestment is the next step in helping to create the world that we want to live in,'' De Anza student Karla X. Navarro said. Students went on to speak about the overwhelming scientific evidence linking the burning of fossil fuels to melting Arctic ice, rising acidity in the oceans and intensifying floods and droughts.
As a result, the Foothill-De Anza Foundation Board of Directors voted to discontinue direct investments in fossil fuel companies and minimize investments in commingled assets that include such companies. The unanimous vote made the Foothill-De Anza Foundation the first community college foundation in the nation to commit to divesting from fossil fuels.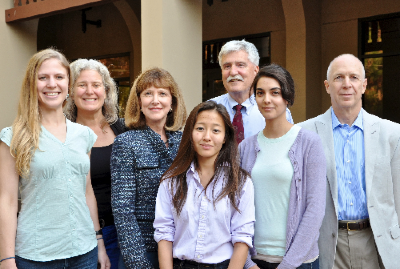 From right to left; De Anza student, Karen Quigley; ICCE Dean, Cynthia Kaufman;
Foundation Board President, Kathleen Santora; De Anza students, Cecelia Ng
and Karla X. Navarro; De Anza President, Brian Murphy;
and Foundation Treasurer, Martin Neiman.

Foundation Board President Kathleen Santora said divesting matches the values of the
Foothill-De Anza Community College District. With FHDA's history of leadership in "green" building partnered with its resource conservation and clean energy use, divesting from fossil fuels is an intelligent next move.
"Our colleges support environmental stability, so this already is a shared value of our community," Santora said. "Credit goes to De Anza students for raising our awareness by identifying ways the foundation can act in a more environmentally responsible manner. We appreciate the opportunity to learn from our students."