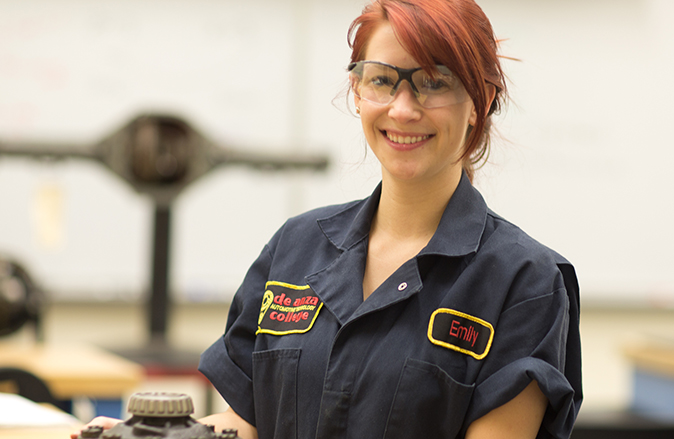 Emily Lowdermilk pictured in class at De Anza's auto technology program.
Building her Future, One car at a time
You might be surprised when Emily Lowdermilk looks up from underneath the hood of your car. In this male-dominated industry, Emily is not your stereotypical auto technician. However, she is enrolled in De Anza's highly successful Automotive Technology program and wouldn't dream of being anywhere else.
A little over three years ago, Emily Lowdermilk was on a path to receive a degree in Economics at the University of Santa Cruz however, she felt something was missing from her life. Having had a fascination with cars all her life she was fortunate to obtain an internship at SharkWerks, a Porsche aftermarket shop in the summer of 2010. Through her internship, she became immersed in the Automotive Industry and her fascination for cars became an obsession. It was at this point in her life she began to realize what had been missing all along, which was passion and love for an area of study. On a leap of faith in early 2011, she withdrew from UC Santa Cruz, enrolled in De Anza College and began to take the courses needed to enter into the Automotive Technology day program at De Anza, where the program educates more than 400 students weekly in a rigorous course of study.
Emily is well on her way to being a mechanic, thanks to her hard work and the excellent and caring faculty. Students in the day program receive a lot of one-on-one time with instructors, as each student spends roughly 800 to 900 hours with the same class and single instructor and often times, the same classmates, something that builds immense camaraderie. Emily said, "I came here and my mind was blown. Everyone was so nice and helpful. It just seemed like the right choice and to this day, I still think that," she said. "I've learned things that I didn't even know I could learn. My brain is so packed full of knowledge, and it is just waiting for more."
She has completed the Engine Building and Machining program and the Engine Performance program for which she received a Certificate of Achievement Advanced in both areas of study, and currently enrolled in the Chassis and Powertrain program with plans to complete in June 2014. Once she is done with her auto tech courses, she will finish up her general education requirements with hopes of transferring to pursue a Bachelor of Science degree in Mechanical Engineering.
Like many of our De Anza students who are trying to make ends meet, Emily must work part-time, and true to her passion, she works at Snap-On Diagnostics, a leading tool company in the automotive industry. Automotive technology students have the added financial burden of having to purchase their own set of tools, and even with the ability to purchase at fifty percent below retail price, the cost to each student is as much as $7,000. Fortunately, with the help of generous donors, there are scholarships available for our automotive technology students to help them offset the cost of their education.
Job prospects are good for graduates who excel in the day program, as the program is renowned in the region. Students often head off to work as mechanics at dealerships or at independent repair shops.