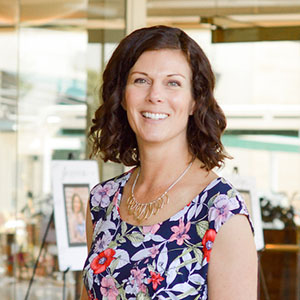 Karin Kelley
De Anza College Alumna Finds Passion in Non-Profit Work
Today she is living that passion as executive director of Teen Success Inc, an organization that helps young mothers and their kids break out of poverty through education. Founded by former state Senator Becky Morgan, Teen Success has grown to seven locations in California, including San Jose and Redwood City. Kelley oversees all aspects of the organization, from fundraising to program development.
As so often happens, her path had some twists and turns, one of which brought Kelley to De Anza College, where she had an opportunity to explore a variety of interests while building a broad educational foundation. Going away to a four-year university wasn't financially feasible for her family after Kelley's graduation from Archbishop Mitty High School in San Jose. She quickly discovered that she could get the high-quality education she needed for transfer at De Anza for an affordable price.
After earning a bachelor's degree in psychology at Santa Clara University, she went on for a master's degree in counseling psychology from John F. Kennedy University.
Kelley's passion for the non-profit world was ignited soon after graduate school when she landed a job working for Kids in Common, an organization centered around advocacy for children living in poverty.
"I fell in love with the non-profit sector," Kelley explained.
Over the next decade working with non-profit and public organizations, Kelley created and managed a variety of initiatives for underserved communities in the Bay Area. She developed a network of school-based family resource centers, and she led a community schools initiative in Redwood City and a successful health insurance enrollment effort. These experiences opened her eyes to the power of collaborative, community-based problem solving and the importance of addressing inequity in underserved communities.
Kelley said, "My main goal is to tie together social justice and educational equity for the children and youth in the community."
At Teen Success, she and her team empower young mothers to get back on track and work on furthering their education, while also offering them the tools and resources to fully support a strong educational foundation for their children. Through the organization, young mothers learn the importance of early literacy and how to successfully nurture their children.
According to Teen Success, an average of only 38% of teen mothers graduate from high school; however, Teen Success has assisted 92% of its young mothers in earning a high school diploma and are committed to creating a pathway for two generations: teen mothers and their children.
Kelley says that her greatest personal accomplishment to date is raising three young children, two of whom have special needs, as a single mother while leading a successful non-profit organization. Her own children, as well as the mothers she meets through Teen Success, serve as her motivation to succeed and prosper.
Kelley recalls her time at De Anza College with great pride and appreciates that the college enabled her to reach her educational goals at a time when a four-year school wasn't an option for her. She urges current students and younger alumni to stay open to exploring new ideas and opportunities that unexpectedly present themselves. And whatever path they ultimately choose, she said, success will come to those who stay focused and determined.