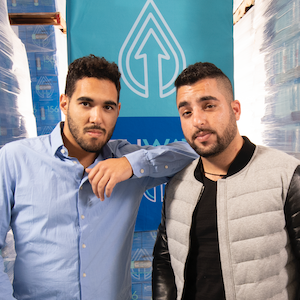 Shadi Bakour and Amer Orabi of PathWater
foothill Alumni Featured in forbes' 30 under 30 for Social Entrepreneurism
Around the world, an average of 1,000,000 plastic bottles are discarded every minute of every day according to EarthDay.com. This overconsumption of plastic bottles is the main issue that friends and Foothill alums Shadi Bakour and Amer Orabi set out to resolve.
One evening in 2014, Shadi, Amer and Amer's brother, Ali Orabi, found themselves in the back of a pickup truck in a CVS parking lot pondering the next big idea for a product that was simple in design but powerful in impact. As they wandered through the aisles, they eventually stopped by the beverages, which sparked their creativity.
As a result of that evening, these three high school friends started PathWater, a company that they say created the first of its kind refillable and recyclable aluminum bottle filled with purified water. At its core, PathWater's mission is to change the way bottled water is perceived and consumed, providing a path toward sustainability.
"What's important to me is that we leave the world in better shape than when we got here," explained Shadi, the company's CEO.
Today, PathWater has gone from being sold locally in Safeways and 7-Elevens throughout the Bay Area to becoming an international brand.
Much of PathWater's success is due in part to the education that Shadi and Amer received at Foothill College, the young entrepreneurs say. Instructors encouraged them to think about pursuing interests that could benefit others on a larger scale.
Amer entered Foothill after graduating from Carlmont High School. He was a mechanical engineering major, but took an accounting class with instructor Jose Nava who, "got me to love business and accounting," Amer said. So he convinced his dad that he should study accounting, no easy task because traditionally "its either you're an engineer, a doctor or a lawyer," Orabi said. He went on to graduate from Foothill with an associate degree in accounting and transferred to California State University East Bay and double majored in accounting and finance.
"I would never change my experience at Foothill, even if I could," noted Amer, PathWater's chief operating officer.
Shadi first attended George Washington University and studied finance and economics. Eventually, he returned to the Bay Area and returned to school to further his entrepreneurial endeavors. Looking back, Shadi recalls the positive impact on his career from professors like Jefferey Anderson, whose passion for math and the success of his students left a lasting impression.
Shadi's message to students who aspire to become the next acclaimed entrepreneur is to remain confident even when doubted and discouraged by others. He believes that anyone can be successful by working hard and focusing on the end goal.
One of Shadi's goals is to expand Pathwater's Student Ambassador program, which works with students to ban single-use plastic bottles at schools and colleges. Currently the program has more than 1,500 students across the nation leading the way toward more sustainable practices and policies.
In the future, Shadi said he would like to create a scholarship fund for aspiring entrepreneurs.
In the meantime, PathWater will continue working to cut down plastic pollution in the world, one bottle at a time.
Shadi and Amer are featured in Forbes magazine's 30 Under 30 Social Entrepreneurs for their work on PathWater. Read their stories HERE.