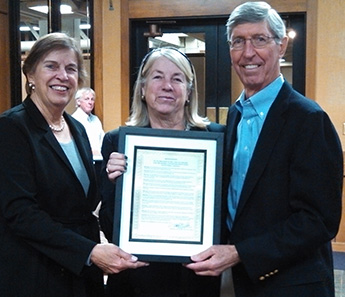 Board of Trustee President, Betsy Bechtel (picture far left) presents a board resolution to Gay and Bill Krause.
Setting a Vision of Academic Innovation in Motion
Having established themselves nationally as education philanthropists, Gay and Bill Krause are again sharing their generosity close to home with a commitment from their family foundation to give $3.5 million to the Foothill-De Anza Community College District. When combined with $1.8 million in gifts during the past decade, the total contribution makes the Silicon Valley couple the largest donor to the Foothill-De Anza Foundation.

The Krause Foundation's gift includes $1 million in unrestricted funds as part of a bequest. The remainder will provide continuing support for key positions and programs at the Krause Center for Innovation at Foothill College in Los Altos Hills.
The Krause Center for Innovation is devoted to helping teachers transform their teaching practice by using technology in innovative ways to deepen learning and engage and inspire students.
The KCI delivers professional development for K-14 teachers and administrators, and has served more than 15,000 educators from school districts throughout the region since training began in 2000. Today the center's programs are still almost exclusively funded through private donations and grants. Gay Krause still runs the center as executive director.
"Given the impact that education has on society, it was clear to us that improving the education of our young people is where we wanted to invest our philanthropic dollars,'' Gay says. "K-14 education today, particularly professional development for educators, is not what it could or should be. Thus, we must help lead the way for innovation in education."
Our students, teachers, foundation and our colleges are fortunate that Gay is a visionary with the heart of an educator. She understands that today's teachers are molding the next generation of engineers, Web designers and entrepreneurs who will be responsible for continuing the prosperity of Silicon Valley. The Foundation is thankful for the Krauses' generous commitment.