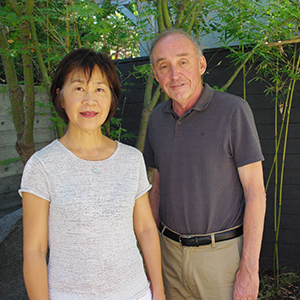 Picture of Melonie and Paul Brophy
Donor Spotlight: Paul and Melonie Brophy
With a smile and sense of pride, donors Paul and Melonie Brophy like to share a story about Paul's mother and the importance of education. Near the end of the Great Depression, Paul's mother wanted to enroll in a state teaching college in New York, which was free at the time. She understood the value of post-secondary education and wanted to be the first in her family to attend college. However, Paul's grandfather would not allow her to go. "So she forged her father's signature," Paul said, clearly proud of his mother's initiative. "She was determined to attend."
Both Paul and Melonie Brophy's parents were active community members, public educators and advocates for giving back, and they passed along their belief in community service to their children. As longtime annual donors to the Foothill-De Anza Foundation, Paul and Melonie know the powerful role our colleges play in shaping students' lives, whether the goal is transferring to a four-year university or entering the workforce. Being able to offer support in a bigger way when they could was a natural step in their philanthropy.
When the time came, the Brophys made a generous multi-year commitment to De Anza College, focusing their support on the chemistry department and the campus food pantry. The Brophys' donation helped De Anza offer six additional chemistry class sections – a 10% increase over the prior year. As a result, more than 140 students were able to take chemistry who would have been excluded. Their gift also gave the chemistry department greater flexibility in class and lab scheduling in the afternoons so that students with morning and evening classes could better utilize the space and maintain an efficient academic schedule.
The couple recognized that students also have struggles outside of the classroom and directed some of their gift to expand the food pantry's evening hours and its growing number of satellite sites across the campus. With the Brophys' generous support, the college has been able to increase "in-reach" to students in order to build awareness about the pantry's services, and outreach to community partners and grocery stores in the region to improve the pantry's food offerings. The Brophys believe in opening doors for students and know that our colleges are great places for sharing optimism and opportunity.
Thank you for making a difference in the lives of our students, Paul and Melonie!