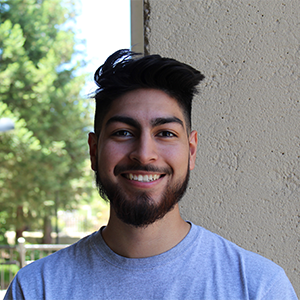 Photo of Daniel Quijano
De Anza student Flourishes with help of EOPS Scholars
Sometimes it's the seemingly little things – a word of encouragement, an offer of help in solving a problem, a small emergency grant – that can keep a student moving past life's low points to a better future. This was the case for Daniel Quijano, whose life took some hard turns after he graduated from San Jose's Lincoln High School. Fortunately, Danny got involved with Extended Opportunity Programs and Services (EOPS) when he came to De Anza College.
Today Danny is among the first group of 20 lucky students participating in EOPS Scholars, a project launched at De Anza in 2017 to determine which additional support services can boost the success of students who face sizable obstacles on the path to reaching their academic goals. EOPS and the EOPS Scholars project came at a crucial time for Danny, whose parents came to the United States from El Salvador before he was born. His mother was diagnosed with breast cancer in 2005, went into remission in 2010, but in 2013 her cancer returned. Danny also recently lost his father, who was the primary source of income for their family.
"It was really hard after my dad passed away," Danny said. "I didn't want to finish school and I became very depressed. There was so much to deal with, from paying for the funeral to figuring out how, as a family, we were going to pay the bills."
EOPS Scholars – a partnership involving the Foothill-De Anza Foundation, donors, and De Anza College's EOPS – provides a group of 20 carefully chosen students with grants to cover 100 percent of books and instructional materials; supplemental academic counseling; professional development; and access to an emergency fund and food assistance.
EOPS Scholars helped Danny with the resources needed to stay in school and succeed. He was able to see a mental health professional to work through his grief, and EOPS counselor George Robles offered support and encouragement.
"Without the resources of EOPS and the EOPS Scholars I don't know what I would have done," Danny said. "It really is the backbone of my success. Things like getting a gas card, or having an emergency fund have helped me get through situations that would have been nightmares."
He recently used emergency funds from the EOPS Scholars project when a rock flew up off the road and cracked his windshield. For most people, this would be an easy x, but for Danny it was overwhelming to figure out how he would replace his windshield in addition to paying his normal monthly expenses.
"Those funds lifted such a huge burden, because I wouldn't have been able to afford to x it otherwise," he said. "For some, they might think that's a small thing, but it really means a lot."
EOPS Scholars helped Danny academically as well. "Being the first in my family to go to college, it was challenging," Danny said. "The EOPS Scholars project was helpful in guiding me on how to be a good student." An additional benefit t of being part of this project is that it helps make students feel like they're a part of a special community.
"My mom was so proud of me when she saw my EOPS Scholars certificate," Danny said. "Being called 'scholar' really makes me feel like we're a special group of students who have been recognized not only for what we need but for what we offer."
Learn more about the EOPS Scholars program: https://www.deanza.edu/eops/scholars.html