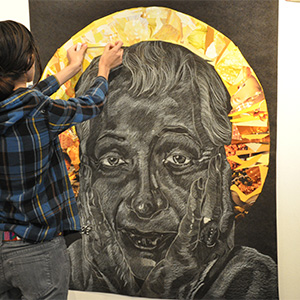 Student work from the Art and Social Justice Institute
De Anza Alumnus Insipres Students Through Art
This year the second annual Euphrat Museum Summer Art and Social Justice Institute took place at De Anza College from Aug. 17-22. Partially funded by the Foothill-De Anza Foundation's Innovation Grants, the goal of the summer institute is to bring together 25 students from various disciplines to create collaborative art projects based on social justice themes.
De Anza alumnus and artist Titus Kaphar mentors the students. Kaphar, a professional artist who shows his work at museums and galleries in New York City, was commissioned by Time magazine in 2014 to create a portrait of the protesters in Ferguson, MO. His artwork often deals with social and criminal justice issues, which makes him an ideal mentor for students who have a similar passion and want to learn how to visually express themselves.
Kaphar says it was his positive experiences at De Anza, as well as his continuing communication with Euphrat Museum of Art Programs Coordinator Diana Argabrite, that brings him back to work with students. Although his relationship with the college has deep roots now, it began almost on a whim because of a girl named Julianne. In the process of pursuing a college degree, she encouraged Kaphar to think about his own education.
"I really wanted to go out with her, and she wanted to date someone who was serious about their future and education,'' Kaphar said, recalling how he arrived at De Anza in pursuit of the woman who is now his wife. "So I registered at De Anza to impress her, and took an art history class. And I loved it. I'd never felt that way in an educational setting before."
The resources provided at De Anza helped him go on to complete his undergraduate education at San Jose State University and then earn an advanced degree from the prestigious Yale University School of Art. He became part of the Extended Opportunity Programs & Services (EOPS) program at De Anza, and later, the similar EOP program at San Jose State. These programs provided the extra counseling and resources to help him succeed academically.
"I hadn't had very much success in high school, "Kaphar said. "I was not a good student. It was at De Anza that I first learned that I had a learning disability, which had been affecting my academics for years. I finally had the tools to help me become the most successful student I could be."
Victor Castillo, a De Anza student and participant in the Art and Social Justice Institute, feels the same way about De Anza.
"I've taken every art class, I am an art major and want to transfer to art school," Castillo said. "The professors at De Anza are remarkable and they really help you in a hands-on way. It's an amazing feeling to know that you have the support of people you admire, and the knowledge that they believe in you."
Kaphar acknowledged that without the support and guidance of his professors he would not be where he is today. He took what he learned as a student at De Anza, coupled with his experience as a professional artist, to mentor the students at the Art and Social Justice Institute.
The artworks created by students at the Art and Social Justice Institute will be on exhibit this fall at De Anza in the Euphrat Museum of Art show, "Endangered," featuring works that investigate native languages and the evolution of the language of protest and participation.
Argabrite, the museum's programs coordinator, said, "It's important for students to learn how to create in groups, and to engage in collaborative processes in both art and academics. It gives them skills that they will use after their formal education."
A huge part of the process in creating the student projects is research that takes place during the weeklong summer institute. Julie Lewis, who is a professor at De Anza and the head of African American studies, participates in the Art and Social Justice Institute as the resident scholar, working with the students to develop the academic framework for their artistic creations.
"Julie provides so much to the students," Argabrite said. "She brings both current and historical content and in doing so, she encourages them to think broadly and deeply about the subject and to understand that art and academics really do go hand-in-hand."
Part of the project was for students to draw women who they considered activists in their lives. De Anza student Karla Navarro chose her aunt, who she said was a huge influence in her continuing her education at De Anza.
"My aunt is the reason I'm at De Anza, she told me I needed to continue my education, and I'm so glad she did,' Navarro said. "My time at De Anza has been awakening. It has been a safe place where I could find myself, find the work I want to do, and learn how that work is done."
Kaphar summarized the goals of the Art and Social Justice Institute: "It's the combination of personal stories, of research and history, and most importantly, of connecting with people not just through language but through visual images and other forms of expression that allows the students to impact not only themselves but the community at large."