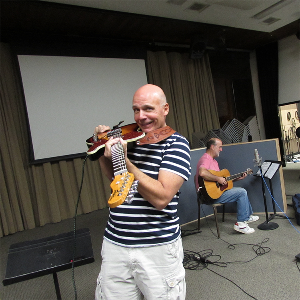 music technology student records in sound studio
Passionate Faculty and Creative STudents Tell Stories with Sound
Foothill College Music Technology Instructor Eric Kuehnl spent much of his career in the music and sound design industry, working at two audio technology giants, Avid and Sony. He brings his industry experience to his classes, and sees his students as entrepreneurs who will take the skills they learn from the music technology program and use them in a variety of disciplines.
The skills they learn are preparing them to be their own advocates," said Kuehnl, who came to Foothill with a bachelor's and a master's degree from Oberlin Conservatory of Music and California Institute of the Arts. "Not only do they gain technical knowledge but they also gain what we like to call 'soft skills.' Students learn how to work in teams, how to give and receive constructive criticism, and how to market themselves and their skillsets in the professional world." These soft skills along with the technical skills they learn in the classroom create a winning combination for students to succeed in the workforce.
Naturally many music tech students come into the program thinking they want to be a part of the music industry. But they are surprised to learn that there are other creative avenues to use the skills they learn, such as sound design for video games, movies, and even television and radio advertisements.
Students who earn an associate degree in music technology or program certificates can move on to a variety of careers and academic pursuits. But Kuehnl said the program also allows participants to apply the creativity and critical thinking skills they learn in music technology to any professional or academic discipline.
Another perk of the program is that at times, students are exposed to the local music scene. Local rock band, Points North, recorded its album in the Foothill College music tech studios, with the help of music tech students. The album, "Road Less Traveled," was rated No. 1 on Amazon's Hot New Releases for Progressive Rock in 2012.
"The value of this sort of program at a community college is that you can't get anything like it anywhere else in this area," said music tech student S. Victor Lederman. "There's such a strong community atmosphere in the program, and you really get to learn how to collaborate with others. It's very supportive."
The Music Technology Program also serves the community at large by opening up the college's studios for music production. "The tools we have here are an accessible resource to musicians," said student Will Gregg.
Gregg said he particularly appreciates the diversity of the program.
"One of the things I love about this program is that it provides resources to so many different individuals," he said. "Some are students just out of high school who are passionate about music, while some are community members who are already successful in business but are now finally taking time to peruse their passion of music. We all come together on this campus and collaborate and create. It is such a unique experience that I know I couldn't find anywhere else."
The uniqueness of the program really hit home recently when Gregg took a music therapy class taught by Instructor Bruce Tambling. "I learned so much about the way music influences the brain," he said. "It was so awesome to the have a course that had guest speakers who shared their research. I also learned about careers in the music therapy industry, including degrees, certificates, and multimedia production applications, some of which I never knew about before."
Foothill's Music Technology program embodies something that Foothill and De Anza community colleges offer all students – strong academics paired with a supportive environment and real-world experience.