Longtime Legislator John Vasconcellos memorialized at De Anza College
Watch a short video of the highlights from the event on June 10, 2015
The mission statement of the Institute of Community and Civic Engagement (ICCE) is "to empower students to be agents of change in their communities and beyond." The actions that take those words into reality are some of the most exciting student stories to hear.
Much of the work the ICCE does revolves around public policy. In fact, it even has a Public Policy School. Students involved in Public Policy School travel to meet with both state and national legislators to discuss the impact that governmental policies have on community college and its students. The students learn to campaign, organize, advocate, and use persuasive speech and communication skills, all while successfully spreading the message of community college needs on behalf of other students. Many of the skills these students learn are skills that politicians use every day to communicate to their constituents as well as advocating for them within the legislature.
On June 10, 2015 the Institute for Community and Civic Engagement (ICCE) was renamed for longtime legislator John Vasconcellos, whose work impacted the lives of thousands people, from his constituents to fellow legislators. The Institute was renamed VIDA, the Vasconcellos Institute for Democracy in Action, and comes as a tribute to Vasconcellos just over a year after his passing on May 24, 2014.
Many students come to De Anza having no idea what it means to be civically engaged. The impact of VIDA, according to VIDA participant Mia Hernandez, is that it teaches students how to ask the question, "What are you doing that is bigger than yourself?" and then try to answer it by becoming involved members of the De Anza and global community through representing and helping their fellow students and supporting the local community.
Mia is a dynamic De Anza student who hopes to graduate next year with not only a certificate of achievement in leadership and social change from VIDA but also an additional certificate and an Associate Degree. She has also participated in Public Policy School and she is very excited about the renaming.
"Not only do I think the name VIDA, which means life in Spanish, is completely in sync with what we do, but also to have this program named after a person who dedicated his life's work to this cause really brings home the bigger picture of why we work so hard. Sometimes it's easy to get overwhelmed with the dailies of life, the two-hour bus ride you have to take to get to campus, and the second job you have to take to pay the bills, but you always have to remember the bigger picture and that the actions you take mean something. VIDA really helped me remember that, and it has also helped prepare me for the real world by teaching me how to actively collaborate with others to be successful."
Mia hopes to transfer to a local university that can build on, and continue to provide her the interdisciplinary learning experience that De Anza has given her.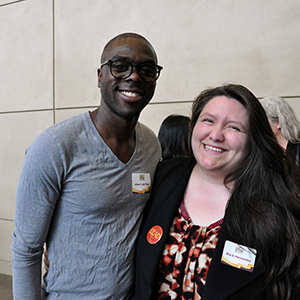 Former VIDA student Albert Lutz-Paap and
VIDA student Mia Hernandez
"It is fitting that John's humanism and spirit will live on through VIDA," said Brian Murphy, president of De Anza College and a longtime friend and colleague of Vasconcellos. "His legacy will continue, strong and proud, engaging students in the work to which John was committed for a lifetime. Mia's accomplishments are one shining example, and there will continue to be many more students who, through VIDA, De Anza and John Vasconcellos, will effect change in the many communities they represent."
With the renaming of VIDA also comes an extraordinary opportunity. Becky Morgan served as a state senator and was in the state legislature with Vasconcellos. When remembering him, she said he was always willing to help others. Thanks to a generous donation from Jim and Becky Morgan in honor of Vasconcellos, every dollar raised for VIDA from the renaming date is eligible to be matched up to $198,000 over three years.
The staff, faculty and students of VIDA, the De Anza campus, and the Foothill-De Anza Foundation are taking on this challenge wholeheartedly. John Vasconcellos was known for connecting and resonating with individuals from all walks of life. So it makes sense that De Anza, a campus that promotes the idea of a global citizenry, would be a place for his legacy to thrive. Many of the students who get involved with VIDA have never thought of themselves as someone who could make a difference, as someone with power. In the process of learning how they can help change their communities and the word, they themselves are changed.