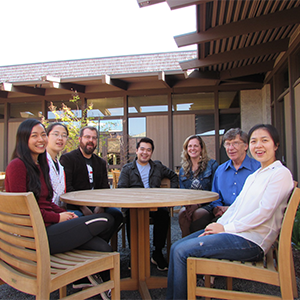 Mike McCusker, Katie Ha, members of the Teaching and Learning Center staff, and students sit in the courtyard of the Teaching and Learning Center
Chat cafe connects students from across the globe
with the common goal of better communication
Mike McCusker began a career as a physicist at Rice University, JILA at the University of Colorado, Yale University, and eventually SRI International in Menlo Park. He first made the transition to technical industry at Spectra Physics, and then several small and larger organizations in a variety of engineering and management roles. Some years ago he began looking for a "retirement job," where he could share his knowledge of physics, math and business.
One of his colleagues suggested he consider working at Foothill College as a tutor in the STEM Success Center. The Center provides a comfortable and supportive environment for study and to receive help from knowledgeable tutors for students studying science, technology, engineering, math, accounting and economics. Mike recognized that although he lived near Foothill for years, he knew little about the college. Taking the advice of his former student, he visited the STEM Success Center, and learned that many other community members with advanced technical degrees had signed on as tutors as a rewarding way to remain invigorated, and perhaps "give back" a little.
"The STEM Center is an amazing program, that with modest beginnings, has really grown through great leadership," he said.
While Mike was tutoring in physics and math, he noticed that many of his pupils were international students who were experiencing difficulty in understanding lectures and the cultural nuances of American English that native speakers take for granted. Mike sensed that there were cultural and linguistic barriers to participation. Many of these students lacked confidence in their language skills. Students needed to practice their language skills, he thought, in a safe place where they could be comfortable asking questions about any topic and hear responses with professional vocabulary and pronunciation.
Though his role as a tutor in the STEM Success Center, he met Katie Ha, director of Foothill's Teaching and Learning Center (TLC). He told Katie about his experience with students, and she suggested that the TLC could assist in establishing conversation groups to help students fill in their language and cultural gaps with an accomplished English speaker as a learning partner.
Thus the "Chat Café" was created.
Mike and members of the TLC staff steward the groups. Each week's Chat Café focuses on a different topic to build vocabulary and understanding of American and world culture as well as their professional fields of interest. The goal is to help students gain confidence and to participate more actively in classes.
"We saw it as a way to engage different cultures on campus," Mike said. "In any culture the medium of exchange is speaking and writing. English has become the true international language. If students can gain greater confidence and skill in these areas it can lead to greater success during their time and Foothill and in their careers after they have moved on."
Organizing and planning each Chat Café session and recruiting and hiring students to work as tutors requires additional funding. To make sure the Chat Café was successful, Mike and his wife Mary decided to help fund it.
"In the past I've been associated with several great universities that regularly remind me to donate," Mike said. "When the opportunity came to support the Café effort as well as the TLC, I didn't think twice. These programs have an immediate impact on students. Creating a small part of a positive learning environment for students is an investment with both immediate and long-term payoff."
Katie Ha is grateful to have donors like the McCuskers who are committed to student success.
"It means a lot, not only to me and Foothill College, but also it means a lot to the students to have the support of the community," she said.
There are now multiple Chat Café meetings for students of various skill levels. Students range from advanced speakers looking to gain a greater cultural and business understanding to students who are still learning the basics of the English language.
Jing Li is one of the international students who inspired the chat café.
"It was a great chance for me not only to improve my English but also to gain a deeper historical and cultural understanding of America," Jing said. "I'm so grateful I met Mike and got involved in the Chat Café. It has really made me more confident in my English skills, and helped me in all of my classes."
Mike – or Mike a-pedia, the nickname students gave him because he is full of fun facts and insights, has made a lasting impression on Foothill students and staff through his science and math tutoring, his insight into student needs and his willingness to make a difference by giving his time and support.