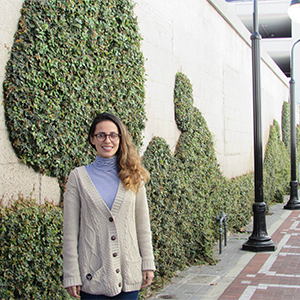 Angelica Mantilla Caez
Transfer Alumna Cites Foothill's Caring Staff & Faculty for her Success
Angelica Mantilla Caez moved to the United States from Colombia with her mother when she was 17 years old. Her first education experience in the U.S. was as a senior at Mountain View High School. She got good grades but struggled in a new school and new country.
After high school Angelica chose Foothill College because she wanted to attend a university but knew she wasn't ready yet. To prepare, she took advantage of all the resources available to her at Foothill, starting with a well-established student success program, Extended Opportunity Programs & Services (EOPS). The program offered her educational support such as extra counseling, book vouchers and tutoring.
When a friend from EOPS mentioned that she was thinking about joining the Puente program, Angelica thought it would be a good fit for her too. The goal of Puente is to increase the number of educationally underserved students who enroll in four-year colleges and universities, earn degrees, and return to the community as leaders and mentors to future generations.
Part of Puente is an English class that focuses on Latino history, culture and experience. The course helps students become better writers. Angelica remembers the day when she got back her first essay with a "C "grade. She was shocked because she considered herself a good writer in high school.
"I went back to the instructor, Susie Huerta, and she went over my entire essay with me," Angelica said. "Throughout her whole class she challenged me and guided me so I became a better writer."
Angelica attended Foothill for three years while working part time to support herself and her mom. She came to Foothill knowing she wanted to transfer to a four-year university but as a first-generation college student, she found the application process daunting. Her dream was to go to the University of California, Berkeley, but she worried that it was out of reach. It was Puente counselor Voltaire Villaneuva who guided her through the university application process.
"I was scared that I wouldn't get in," Angelica said. "I didn't think I could do it, but Voltaire believed in me and his confidence gave me confidence. Without Voltaire's guidance I would have been too afraid to apply. I wouldn't have known what to do."
Before beginning the application process, she'd told Voltaire about her interest in studying law.
"Voltaire helped me apply for internships at local legal aid companies," she recalled. "This not only gave me experience in the field I wanted to pursue, but also let me serve my community and add the experience to my college application to make me stand out as an applicant."
"The biggest impact that Foothill had on me was that each of the resources I used was there for me at the right time. The level of care I received was above and beyond. With Puente, I found even more champions. They mentored me and believed in me."
Angelica ended up being admitted to her dream school, UC Berkeley, and graduated with a degree in legal studies.
"My experience at Foothill directly related to my success at UC Berkeley," she said. "Without the instruction and support I received I would not have been as successful as I was."
After working in various roles in nonprofit and corporate organizations she began her current role as a legal assistant at the Mountain View offices of the national law firm Fenwick & West.
"The best part about working there is that they encourage us to volunteer within the community," Angelica said. "Part of my job is taking a designated amount of time each year and doing pro bono work. It reflects on what I learned at Foothill, about serving my community and being a leader. "
Angelica just got engaged to another community college alumnus, a graduate of Santa Monica College, and they recently purchased a house in the Santa Cruz Mountains.
Reflecting on her journey, Angelica said, "I spent my college years working to support myself and my mom. When I was in school I always had to have another job, sometimes two. Now that I'm financially secure I've gotten to travel all over the world and experience so many different things. This year my fiancé and I went to southeast Asia for two weeks. It was an incredible experience. To be able to explore the world and learn new things is something I never take for granted. I worked so hard during school and it paid off."