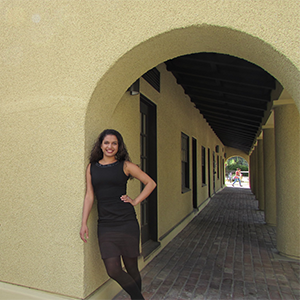 Neesha Tambe comes back to visit De Anza College
Neesha Tambe continues to champion civic Engagement
After she graduated from high school Neesha Tambe wasn't sure what she wanted to do. She had been accepted into a number of universities but wasn't "energized" by any of them. Unsure of what to do, she reached out to a friend.
Her friend gave advice that Neesha said she would never forget.
"You don't have to do what everyone else is doing (going to a four-year university),"
her friend said. "You can take time to figure out where your passions lie."
This friend had attended De Anza College before transferring and suggested that it would be a good fit for Neesha, allowing her the time to take classes and figure out the course of study she wanted to pursue.
Neesha had come from an incredibly competitive high school and wasn't sure what to
expect at De Anza.
"At first it was a culture shock," she said. "I began to meet other students, some of whom were the first in their families to go to college, some whom were undocumented, and some whom traveled from all over the world to pursue higher education. Meeting such a diverse population of students and taking classes with them helped fundamentally alter my worldview."
Neesha became an honors student at De Anza and also joined the Honors Club. One day, a classmate invited her to attend a De Anza Associated Student Body (DASB) meeting to learn more about how clubs were funded. One meeting turned into two, and soon Neesha was running for office with her classmate on the DASB presidential ticket.
Her involvement with DASB soon led to her participating in other organizations and programs across campus. One program that had a profound effect on her was the Institute for Community and Civic Engagement (ICCE), now known as the Vasconcellos Institute for Democracy in Action (VIDA).
Neesha said that her participation in VIDA was a turning point because it "illustrated how to turn academics into meaningful action. VIDA gave me a deeper understanding of the impact activism can have both on the world and within a community."
From De Anza, Neesha transferred to Georgetown University near Washington, D.C. The summer before she transferred she was selected as one of the first students to participate in The Democracy Commitment, a national organization co-founded by De Anza College President Brian Murphy. Dedicated to advancing democracy in America's community colleges, it is modeled after the American Democracy Project, a national coalition of public state colleges and universities committed to civic and democratic work.
Neesha found the work inspiring and took the values she learned at De Anza with her to Georgetown.
"De Anza gave me a deep love for activism and a deep love of people," she said.
Attending Georgetown was another culture shock, but she soon found ways that her activism could make a difference on the campus. She established a new position of secretary of social justice in the student government and became the first person to fill it, and she helped develop a non-discrimination agreement for student housing.
Neesha chose to study government and sociology with a focus on social entrepreneurship.
"I took a class called social entrepreneurship, which is a premise that businesses can have the same impact as activism through long term fiscal decisions and responsible business development," she said. It opened her eyes to new possibilities for incorporating social activism into career.
After graduating she put her knowledge and experience to work as an intern with a company called Sustainable Brands in San Francisco. Her role there involved running a startup competition to help connect brands that have a sustainable mission with members of industry and supply chain partners.
"Many of these companies were enacting social justice initiatives into businesses that would then impact the lives of individuals," she said.
Neesha now works at TechCrunch, a media platform that profiles new startups, reviews internet products and reports breaking tech news. One of her responsibilities includes helping coordinate the San Francisco conference TechCrunch Disrupt, a hub for the tech industry's latest key innovators in Silicon Valley. Never straying far from the social justice work she learned at De Anza, Neesha implemented the practice of offering a free booth at the conference to local non-profits that support underserved communities. Her advocacy for programs that highlight diversity is a direct result of her educational experiences and exemplifies her commitment to practice the activism that became integral to her identity at De Anza.
Neesha's energy is as boundless as her passion for civic engagement. True to her roots, she became involved in 2014 in her local community through an appointment to the Cupertino Parks and Recreation Commission. Her decision to participate was driven once again by experiences at De Anza that taught her how engaging with a community can make it better. She currently serves as the commission's vice chair.
Neesha summarized her philosophy this way: "For me, it's about jumping into the opportunities that present themselves to you and realizing that doing good never gets old."