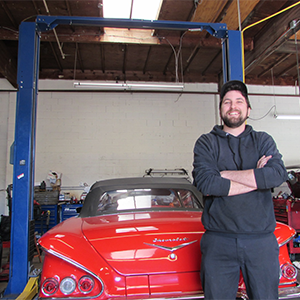 De Anza alumnus Tony Ruiz
Workforce Education Helps De Anza graduate start His own auto business
Tony Ruiz wasn't sure what he wanted to do after he graduated from Saratoga High School.
The opportunity came for a job at a welding and fabrication shop, and since he had always liked building things he decided to take it. He enjoyed the work and the pay was good, but he was always on the lookout for other options.
A friend of Tony's father had taken some introductory classes in the Automotive Technology Program at De Anza College and really enjoyed them. He suggested that it might be something that Tony also would enjoy.
After taking some of the prerequisite auto tech courses Tony enrolled full-time in the auto tech day program. He had always been a decent student, but in the auto tech program, learning became fun.
"The auto tech program is so involved, and everyone shows up every day ready to get to work," Tony said. "You really get to know the instructors and your peers. You spend so many hours together it becomes a tight-knit group."
For Tony, the best part of the program, and De Anza, was the instructors.
"The instructors are so invested in your learning and success," he said. "Their attitude has a great impact on everyone around them."
Tony graduated from the auto tech program with three certificates of achievement-advanced and three associate degrees in these specialties: – automotive machining and engine repair technology; automotive chassis technology; and automotive engine performance technology. After graduating, Tony started working on cars out of his parent's garage. As people heard about the quality of his work, more and more clients came to him. He started looking for a building to rent to set up his own shop.
That was six years ago. Today his business, FFR Fabrication & Repair, in San Jose, offers what he describes as "straightforward, honest, no-nonsense service." The shop does everything from basic brake jobs to full restorations and custom fabrications, specializing in older classic cars.
"We looked around and found that there weren't many places that specialized in older cars," Tony said. We saw an opening in the market and took it." Tony credits De Anza's auto tech program for giving him the skills necessary to open and run a successful business.
Dave Capitolo, chairman of the auto tech department, said success stories like Tony's affirm the efforts of faculty and staff to prepare students for satisfying careers. "Auto tech strives for all students to develop necessary skills to start a career in automotive repair and eventually become successful, regardless of how each student defines success. We do our best to make sure that we work toward our mission to inspire, excite, and train our students to achieve a valuable place in our local and global communities," said Capitolo.