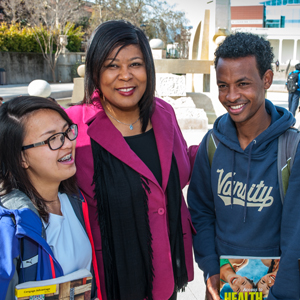 Dean Michele LeBleu-Burns with De Anza EOPS students
De Anza EOPS program quietly changes lives
Michele LeBleu-Burns is dean of Student Development and Extended Opportunity Programs & Services (EOPS) at De Anza College. A community college graduate and former EOPS student herself, she speaks from experience when she lauds the benefits of the program. LeBleu-Burns credits EOPS with giving her the resources, support and resilience she needed to succeed and to earn her master's degree.
EOPS is a statewide program designed to assist specific students – California residents who are enrolled in college full time and need additional services to overcome financial and educational disadvantages to succeed in school. Students in EOPS are often single parents, former foster youth, immigrants, and returning veterans.
Many EOPS students come to De Anza not knowing what they need to do to succeed and what path to take. This is where the supportive EOPS community comes in.
Student Guadalupe Rubio, who credits De Anza EOPS with helping her find her way, said, "After I graduate with my bachelor's degree, I want to get a master's in education,'' Guadalupe said. "I want to become a teacher, or I really want to be a college academic counselor. I want to help out other students, the same way my EOPS counselor helped me."
LeBleu-Burns said that it is common for EOPS students to want to continue on a path that would allow them to help others. It's a continuation of the culture at De Anza that students complete their studies wanting to affect change and to improve the communities around them.
EOPS at De Anza is funded serve 606 students a year yet student demand for the program greatly surpasses the number. In fact, the program routinely takes in dozens more students than it is funded to serve and still has a waiting list of more than 300 qualified students.
To understand fully how valuable the program is, it helps to take a moment to walk in an EOPS student's shoes. Imagine that you wake up one morning and decide that you want to further your education. But what is the next step? No one in your family has gone to college before. You are working part-time or even full-time to make ends meet. Where do you go to ask for help when you're unfamiliar with the complex system of higher education? Again, EOPS can help.
Although LeBlue Burns heads the program, she is the first to say that it is members of the EOPS staff who are its heart and soul.
"It's the individualized and intensive support from staff that makes a difference for students," she said. "It's establishing a relationship built on trust and mutual respect. In fact, we have students sign a mutual respect contract. It sets the tone that we are here to help these students succeed no matter what."
EOPS challenges students to think beyond their perceived boundaries. EOPS graduate Tram Pham wrote in an essay, "I couldn't have been successful without my counselor's guidance and the EOPS staff support I received through quarterly meetings and informational workshops. My counselor kept me on track to reach my goals and constantly encouraged me to keep pushing forward." At graduation, Pham received the $20,000 Karl S. Pister Leadership Opportunity Award scholarship to UC Santa Cruz.
EOPS student Monica Cardenas summed up how EOPS not only affects individual students' lives, but has a ripple effect as students go out into the world after graduation.
"My ultimate goal after my education is actually simple," she said. "I want to provide a better stepping-stone for generations to come. I want to set the example that college is not impossible, but very obtainable. I hope to provide a better life to my family, and I do believe I can personally do this through educating myself."