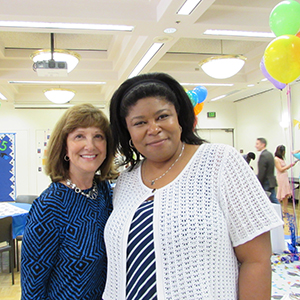 Kathleen Santora with De Anza College Dean of EOP&S and Student Development, Michele LeBleu-Burns
FOothill-De Anza Foundation board president leaves a legacy of dynamic leadership
Kathleen Santora joined the Foothill-De Anza Foundation Board of Directors in 2011 and became its president in 2013. As she steps down from her role of president this July, she leaves behind a legacy of dynamic leadership as well as a personal story that demonstrates how being an engaged community member can change lives.
Kathleen, a Los Altos Hills resident, knew Foothill College as one of the local community colleges, but hadn't really had a chance to explore all its offerings. One day, searching for classes about drought-tolerant landscaping, she came upon the classes offered by the Foothill Environmental Horticulture & Design Department. She signed up, took a class, and then took a few more. As she became more familiar with the department, she became thoroughly impressed by its work.
Always on the lookout for an opportunity to make a difference in her community, Kathleen soon volunteered to help organize a water-wise landscape conference called "Slow the Flow." Kathleen and her husband Mark made a generous donation that helped the horticulture department install two rainwater harvesting systems and a water catchment structure on the Foothill campus. These systems were recently recognized with an award from the Silicon Valley Water Conservation Awards Coalition.
As board President, Kathleen has served as a steadfast leader, working to align the Foothill-De Anza Foundation's goals with those of the Foothill-De Anza Community College District. With student equity at the forefront of discussions all across the community college system, Kathleen is tireless in her pursuit of programmatic support that has the greatest impact on student equity.
"I am very excited that our Foundation Board has decided to support our colleges in finding the resources to give underserved students access to individualized support services and programs, which we know can help them succeed," she said. "Many of our students need this kind of targeted support to help them get the most out of their educational opportunity, resulting in more equitable outcomes."
Reflecting on her time as president, Kathleen says that her favorite part of the role was collaborating with everyone across the two campuses, from students to faculty to staff and administrators.
"Everyday I am so incredibly impressed by the passion I see at both campuses - students committed to their education, and faculty, staff and administrators committed to the students and their success," she said.
As president, she said, she takes pride in the board's efforts to align the mission of the foundation with the mission of the colleges, and in the commitment of foundation board members to the students of Foothill and De Anza.
She said, "I think what I'm most proud of is how we've really taken a student-centric focus. It was there before, but now we have it in our mission statement, and every board meeting we talk about the different ways we are engaged with the campuses and our students.
"Our board is full of individuals who embody the traits of what I would call an 'ideal' board member. They are wholly committed to students. They are willing to collaborate not only with each other, but also with members of the community to provide support. They are strong advocates for community college and are intent on listening to the needs of the campus communities."
She said another point of pride, which got started before she became president and came to fruition during her term, is the foundation's decision to divest from direct investments in fossil fuel companies. The idea came from students.
"They came to us with this idea, they presented their arguments, and we worked with them to make it happen," she said. "It comes back to that collaboration that I see all over Foothill and De Anza."
Kathleen said she believes that the board will continue to create partnerships both on and off campus. And although she will no longer be president, she will maintain her strong commitment as an advocate for Foothill and De Anza.
"Giving back to the community I love is one of the best feelings in the world," she said.