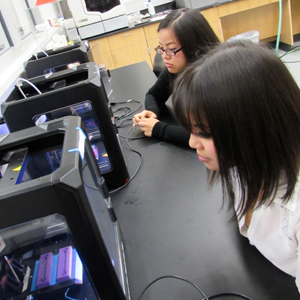 Students Michelle Le and Tu Le looking at the molds for their devices inside 3D printers
Students Create Adaptive Devices for those with Disabilities
This year, Foothill College launched a series of new courses aimed at students interested in learning about the biomedical industry, a booming piece of the Silicon Valley tech sector. The classes are part of the Foothill Science Learning Institute (SLI), an initiative that uses an innovative education model for the successful teaching and learning of science, technology, engineering and mathematics at all levels. A hands-on approach encourages students to explore the process of science, not just the solution.
Dr. Oxana Pantchenko champions the goals of the SLI and is the force behind the new biomedical curriculum. She holds a doctorate degree in electrical engineering and worked as a biomedical engineer and Commissioner's Fellow at the U.S. Food and Drug Administration in Silver Spring, Md. before joining Foothill's faculty.
Dr. Pantchenko taught "Introduction to Biomedical Engineering" this fall to a class of about 25 students. The goal of the course was to design an adaptive handle that would help people with disabilities, especially children, grasp things they otherwise could not easily hold. The students worked not only with each other, but also with campus and community experts from multiple disciplines.
The students had the opportunity to consult with an occupational therapist from California Children's Services. She showed them what tools those with disabilities currently use, the strengths and weaknesses of those devices, and also provided feedback for their designs.
Students also had an opportunity to work with other members of the Foothill academic community. "When the students were designing adaptive handles that would hold toothbrushes, we had a faculty member from dental hygiene come and review their products and provide feedback,'' Dr. Pantchenko said. "This was helpful in the design process for the students, who had to take the feedback from these outside sources and translate it into a more thoughtful, successful product." This cross-departmental coordination exemplifies Foothill's goal of being a living laboratory where different disciplines leverage each other to become more dynamic.
"The 3D printers we have play a substantial role, not just for this class but for so many classes," Dr. Pantchenko said. "The printers are used in engineering courses and for independent student projects, as well as by the students in the biomedical class.
The students worked in teams to produce designs for the adaptive handles. Two designs were selected to go into production, with the end result being a 100 number of the devices being delivered to California Children's Services in San Jose.
"Going through this process gives them the opportunity to engage with the technology and creates a learning experience," Dr. Pantchenko said. "It also gives them a chance to interface with the community, and positively impact the lives of others. We're training students on technology that they will be able to use in the vibrant and developing biomedical field. We're providing adaptive handles to local children in need, improving their lives. Community colleges are really part of the community."
In addition to the coursework, design, and consultation with experts, the students also heard from members of the biomedical device industry.
"There were seven industry guest speakers, and we also went to a pathology lab as a field trip," Dr. Pantchenko said. "These opportunities really give students the chance to see what the industry is like, and hear from a professional and see what they do. There are hundreds of biomedical device companies right here in the Silicon Valley and our location gives us a great access point to these companies that can show our students their potential careers."
Students who took the class come from a variety of backgrounds, Dr. Pantchenko said. She estimated that about half were Foothill students looking to transfer to a four-year university, and half were workers coming back to school to add skills that would help them be more competitive in the workforce.
Cousins Tu Le and Michelle Le, took the course to become more competitive in the workforce.
"I saw this course and knew that the hands-on experience as well as the opportunities to interact with business leaders in the area would give me a greater advantage when looking for the right job," said Michelle, who has an English degree from San Jose State University and wants to be a technical writer.
Tu, who trained at De Anza College and works as a phlebotomist for Kaiser Permanente, also saw the course as a way to build her experience. "I'm really interested in helping with all of the medical research that's going on in the area that helps develop these great devices and other products," she said. "I knew that this course would help me gain some applicable experience and provide insight into the different pathways I could take for the career I'm interested in."
The biomedical device class is only the beginning. This summer, students will have an opportunity to learn more about various careers in the technology sector through internships with Science Learning Institute partners including UC San Francisco, San Jose State, and the Fogarty Institute for Innovation on the El Camino Hospital campus.