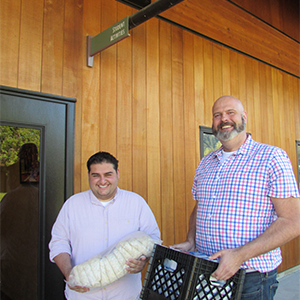 Associated Students of Foothill College President Ramiel Petros and Acting Dean of Student Affairs and Activities Thom Shepard
Thanks to the generosity of our donors we have raised $4,915
for Foothill's most vulnerable student population

Anonymous
Tess Chandler
Chien Chang
Joseph Dara-Abrams
Jane Enright
Foothill College Smart Shop
Kimberly Gawlick
Carol Matre
Lisa Morrow
Paul Goldstein and Dena Mossar
Laura Roberts
Jane and Ed Seaman
Peggy Shattell
Richard Edwards
Penny and Buzz Thayer
Anna Zara
Food insecurity and homelessness are growing concerns among college students. Not surprisingly, having to live in one of the most expensive areas in the country, many Foothill students struggle with not being able to meet their basic needs. Students who don't have a permanent home may be couch-surfing or even living in their cars, yet they remain determined to continue with their education. However, even the most steadfast student's success is at risk when faced with homelessness and hunger.
Foothill is fortunate to have opened a Food Pantry last fall thanks to partners Second Harvest Food Bank and the Community Services Agency. The Food Pantry provides groceries to any Foothill student enrolled in credit or non-credit classes who meets the self-reported income eligibility set by Second Harvest. But for students who don't have a home where they can bring groceries and make meals, the Food Pantry is not a viable option.
"The food pantry allowed us to address the food insecurities facing our students. Through that, we learned many of our students do not have access to other basic necessities like toiletries and blankets. Things that many of us take for granted are literal life-lines for some of our students." said Thom Shepard, Acting Dean of Student Affairs & Activities.
Now, thanks to a generous anonymous donor, this highly vulnerable student population will have a small relief. Because of this gift, Foothill counselors can provide students with gift cards, blankets and toiletry items like toothbrushes, toothpaste, shampoo and soap. College counselors are often the first people with whom students share their struggles. Having a few options to alleviate student stress is vital for them to stay on track.
Lan Truong, dean of Counseling said, "Our counselors will now have the ability to direct students to our Food Pantry for a much-needed blanket or toiletry items, plus give them a gift card so they can purchase ready-made food. Just knowing someone is there to help is a huge comfort to our students." Shepard added that the students are so appreciative of these simple gifts.
A student who received a gift card wrote, "I cannot begin to express how grateful I am for your generosity. The last four months have been very difficult. We had an apartment but the rent went up and we could no longer afford it. Ever since then we have been living day-by-day in our van. And with your gift not only am I able to buy some necessities, but I have a new sense of hope that no matter how down things are, they will turn around little by little as time goes by. It is the small things that count in life and thanks to the donors like you, I am holding on to hope."
The anonymous donor will match every gift up to $3,000 to further help students with food and housing insecurities.
Please help us reach our goal of raising $3,000 by June 30th so we can continue to offer basic necessities to students that many of us take for granted! Your gift will be matched dollar for dollar!
Click Here to donate now - indicate Food Pantry Match under Other