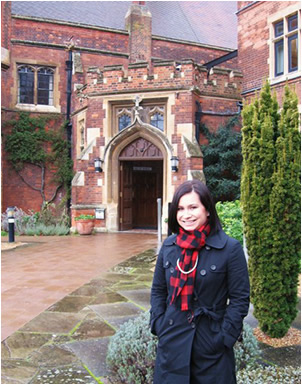 Danielle 'Dani' Hayes while attending the University of Cambridge.
Honors Institute Provides a Foundation
Danielle 'Dani' Hayes entered Foothill College at age 16 after struggling to fit in at high school. She adjusted to Foothill quickly, and soon found her place in the Foothill Honors Program.
The Honors Institute offers dynamic educational curriculum, participation in small group discussions with top-notch faculty, counseling and transfer opportunities to select CSU and UC universities.
After graduating from the Foothill Honors Program in 2003, Dani transferred to UCLA, from which she graduated in 2005.
"My time at Foothill taught me the importance of community colleges and their honors programs, " she relates. "I went on to study in this area at Columbia University's Teachers College, where I wrote my thesis on California Community Colleges. I received a second Master's Degree in Higher Education Administration from the University of Pennsylvania."
Dani reached out to Foothill after she was admitted to an exclusive PhD Education Program at the University of Cambridge. Looking back, Dani expresses that without Foothill College she would never have been as successful as she is today.
"The staff in the honors program for providing me with endless support, rigorous course work, and a community where I finally belonged," Dani wrote. "I want to say to them, 'Not bad for a high school dropout, with a Certificate of Proficiency', yes?"