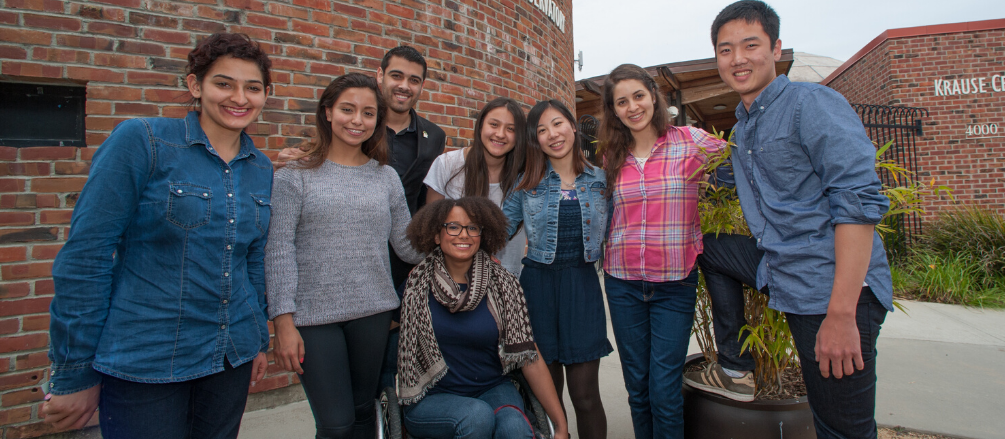 Covid-19 Updates & Impact
COVID – 19 Foothill and De Anza Support Students
As you might expect, the COVID-19 pandemic is hitting our community college students hard. Their lives are changing daily with the outbreak. Staff, faculty, students, and administrators have done amazing work to create a virtual learning environment and support our students and community in other essential ways. We are proud of the work that is being done at our colleges and want to share these inspiring moments with you! Below you'll find some highlights from our early responses.
Emergency Funds Prove to be Lifesavers for Students
Loans of 250 Chromebooks for Foothill students
Because of generous support from our community, Foothill College was able to order 250 Chromebook laptops for students to borrow during the spring quarter when all classes are being held online. Technology is challenging for many of our students. They may be sharing computers at home or may not have the internet access they need. The college also is offering wi-fi hotspots, thanks again to the emergency fund!
Grants of up $1,000 meet financial hardships
COVID-19 threatens to derail many students from their education path. Our goal is to provide some relief, particularly for the many students who work while going to school. With the loss of so many jobs, students are faced with stacks of bills as well as food and housing insecurity. Grants of up to $1,000 help ease the financial pressure and make it possible for students to continue their college education. This support also lets students know that people in the community care and want to see them succeed.
Food E-gift cards to help students
Both Foothill and De Anza colleges have robust on-campus food pantries that served hundreds of students every week before shelter-at-home orders. With the pantries closed now, students must rely on other community services. Our colleges are coordinating with those agencies and are working to roll out an e-gift card effort to assist students who previously used the pantries.
What our students say:

"It is very comforting to know there are individuals and organizations like the Foothill-De Anza Foundation that are willing to help in times of distress. For educational institutions to care about their students even outside of the classroom is very motivating.

Thanks to the emergency fund, I will be able to stay on course to a bright future and focus on my education, not on the limitations brought about by the coronavirus... I will remember the support I received and will not hesitate in returning the favor." – Christian, De Anza Student
"I wanted to thank the FHDA Foundation for helping me with emergency relief funds and the Chromebook this past semester when I needed help most. Having this help has greatly improved my quality of living as it's made it easier to do coursework online not only for myself but for my children as well.

It was also a big blessing to receive emergency funds that allowed me to pay my internet and utility bills. As a single parent of two children, these past two months have been very difficult and we are so appreciative of the support FHDA Foundation has provided. Thank you for coming together to help us during this time of need."
– Annie, Foothill Student

"I knew that things were changing in the world when my boss called to tell me not to come in because he was shutting down the business due Covid-19! I immediately became concerned about how I was going to make ends meet considering I couldn't go to work, but my bills continued to add up. Being awarded the grant from De Anza provided me with the mental stability that I needed to not worry about paying my bills and just focus completely on pursuing my education. Thank you so much for providing me with this financial relief!" – KeNoah, De Anza Student
"I am writing to express my sincere gratitude for your generous amount of money in an emergency fund program. By awarding me the emergency fund, you have lightened my financial situation during the Covid-19 time frame, which allows me to focus more on the essential aspect of school, learning. Your generosity has inspired me to help others and give back to the community. I hope one day I will be able to help students achieve their goals as just as you have helped me." - Anh, De Anza Student
Krause Center for Innovation's Makerspace
Steps in to Help Print Protective Gear
Foothill-De Anza's Krause Center for Innovation is working to ease the shortage of personal protective equipment for healthcare and emergency services workers. Since their offices at Foothill College closed on March 14, KCI makerspace staff have been busy developing partnerships, procuring materials, and prototyping products for use by emergency medical workers.
The makerspace's seven 3D printers have been deployed to print headpieces for face shields through a partnership with Maker Nexus in Sunnyvale. Each seven-hour printer run produces three sets of headbands and support pieces. Running the printers at full capacity for 24 hours a day, KCI staff can produce almost 500 headpieces per week!
Kas Pereira, KCI makerspace director and teacher-in-residence, has been working to procure enough PETG filament to keep the printers running at full capacity. PETG is a flexible plastic that can flex to conform to a forehead and can be disinfected with bleach. It will take 20-30 spools per week to keep the KCI printers working at maximum capacity.
"It is this kind of ingenuity that makerspaces can inspire in a community," said Gay Krause, founder and executive director of the Krause Center. "I am happy that even with our office space closed, we can contribute to the critical needs of healthcare workers."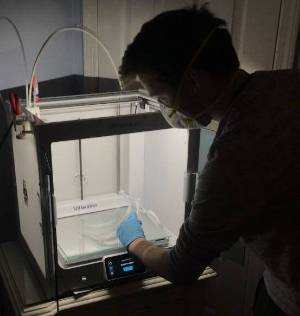 Foothill's Respiratory Therapy Program is on the
Front Lines of COVID-19 Battle

Respiratory therapists are at the forefront of treating severe COVID-19 cases, monitoring and adjusting ventilators for patients who are in the most distress. Many Foothill College respiratory therapy graduates are delivering critical care for patients in hospitals throughout the region.
In addition to providing trained respiratory therapists to work the coronavirus front lines, the Foothill program has identified a dozen ventilators used to train students in laboratory classes to loan to area hospitals during the crisis.
De Anza's DMT Program Helps Produce Face Shields
The DMT Department is joining with a nonprofit group called Maker Nexus that is producing transparent plastic face shields, using designs vetted by medical personnel. The shields are being delivered directly to workers at local hospitals and medical offices.
Face shields are among the types of personal protective equipment that are in short supply around the country, as health care workers and emergency responders care for thousands of people who are infected with the new coronavirus.
Maker Nexus has already delivered hundreds of units to workers at Bay Area medical facilities, but it has a backlog of requests for thousands more.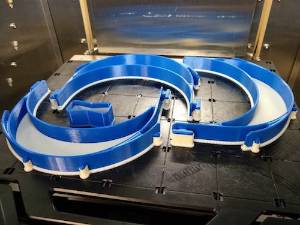 De Anza's DMT program started production work in early April to make the plastic headbands that hold the transparent shields. The department is using equipment in its Additive Manufacturing Lab, including industrial 3D-printing machines and desktop 3D printers, according to Mike Appio, the department chair.
Members of the DMT Department – including instructors Corey Dunsky and Brandon Boulden and lab coordinator Max Gilleland – will operate the machines while closely observing health and safety protocols. These include social distancing, wearing appropriate protective equipment and regularly sterilizing all equipment and surfaces during the project.
"We know there's a critical need for this equipment," Appio said. "We're happy that we can use the De Anza College DMT program's equipment and skills to help with this effort."