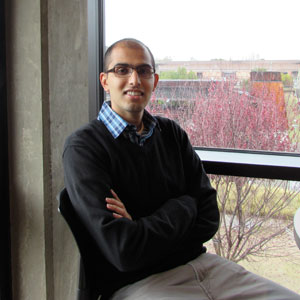 Nimit Tank comes back to visit those who helped him on his path to success.
Foothill Alumnus begins entrepreneurial career

Nimit Tank grew up in Cupertino, surrounded by entrepreneurship. Ever since high school he's spent his free time engaged in activities that would enhance his ability to work with others and create something new. Now, with a degree in business from the University of Southern California, he's working for a technology company as a business consultant and pursuing his passion to make a difference by launching his own start-up. He credits Foothill College as essential to his success.
Coming from an entrepreneurial family, Nimit jumped at the chance to take part in "class consulting" at Foothill, which places business students as consultants in non-profit organizations and small businesses to help with strategic planning. He said that this program taught him what it means to succeed individually and as part of a team. "It made it easier to recognize my successes when, as a
19-year-old kid, I was able to work with organizations helping others and give them a better chance to do that," he said.
Reflecting on his education, Nimit said, "Foothill for me was harder than USC. There was no (grading) curve at Foothill; it wasn't about just being better than everyone else. It was about personally excelling, no matter how the rest of the class did." Nimit also loved the camaraderie with peers in the Foothill College Honors Institute who were driven to excel as much as he was, and the support he received from faculty and staff who invested in his success.
Nimit believes the strongest assets of community college students are their drive and determination. Many community college students have families to support, so they work and go to school at the same time. Others are returning to school after a long hiatus, including military veterans back from combat zones. Overcoming these challenges to succeed in school requires a level of maturity and time management skills that also help these students succeed when they move on to four-year universities and careers.
"If you think about the successes that community college students have, and how hard they work, it's easy to see why even a modest donation to support additional resources can make a meaningful difference in their lives," he said. Although community colleges serve many more students than public four-year universities do, they receive just a portion of the funding.
At USC, Nimit and other community college transfer students shared a common bond. "We were at this place and we had a goal in mind, and we leveraged each other's strengths in order to help each other succeed," he said. "And I think that's what community colleges teach their students to do."
Nimit's business studies at USC helped him expand his idea of entrepreneurship. "One of my business classes was just a series of guest lecturers, all of them alumni, who had started their own companies or worked in some of the most dynamic companies in various industries, like technology," he said. "Now that I'm working in the Silicon Valley, I know that there are so many opportunities for investment in so many different spheres.
"I think that the community of entrepreneurs should be inspired by the drive, determination and ingenuity of community college students," he added, "and see them as the investment opportunity I know they are."
In addition to working for a consulting company, splitting his time between Silicon Valley and San Francisco, Nimit's other passion is his up-and-coming company Mouthful, which builds on the peer-to-peer economy by harnessing the culinary talents of home cooks in Silicon Valley. Mouthful taps into the idea of neighbors helping neighbors. Whether it's through food, or chores, or just support, Nimit wants Mouthful to be a place where communities can come together. You can check out the Mouthful website at www.getmouthful.com