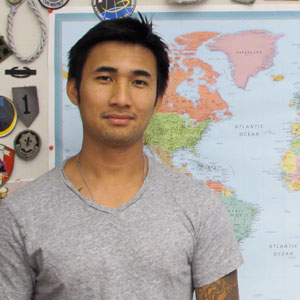 Charles Viajar at the Foothill College Veterans Resource Center
Foothill Veteran continues to serve
Charles Viajar's eyes light up when he talks about the Veterans Resource Center at Foothill College. "It's just such a welcoming place," he said. "I looked at a bunch of different community colleges before deciding to attend Foothill, and one of the main motivators behind that decision was the experience I had with the Veterans Resource Center."
Charles was in the U.S. Navy for six years, deployed to Japan. Not only did the Navy teach him about discipline, he says, it taught him how to be a good leader and mentor. Charles knew that he could use those skills in civilian life, but also recognized that the transition out of the military might be difficult for him, as it is for many veterans.
"I was lost," Charles said, recalling how overwhelmed he felt. "I knew I wanted to continue my education but I wasn't sure which direction to go."
He credits much of his success to Carmella Xuereb, Veterans Resource Center manager at Foothill College, who helped him navigate the U.S. Department of Veterans Affairs. "Carmella walked me through how to get my benefits,'' he said. "The VA is very complicated and sometimes you just need that little bit of extra help, someone sitting down with you and guiding you through the process."
In addition to taking classes to become a respiratory therapist, he joined the Veterans Resource Center as a student worker. "I've helped over one hundred veterans," Charles said proudly. "Sometimes it's just about doing what Carmella did for me – sitting down with them and walking them through the steps."
One of the biggest challenges for any student veteran in the Bay Area is how to stretch GI Bill benefits to cover all the costs associated with college while living in one of the most expensive areas of the country.
Fortunately, Charles received help in the form of the Friends of the American Veterans Scholarship, created by a small group of Los Altos Rotary Club members in memory of U.S. Marine Captain Matt Manoukian, a Los Altos native and former Foothill College student who was killed in 2012 in Afghanistan. Spearheaded by Rotarian Ron Labetich, the group has raised more than $60,000 from the community for student veterans at Foothill.
Inspired by the help he received, Charles has committed himself to helping other veterans. When a fundraising opportunity came through the San Jose Mercury News Wishbook to help the Veterans Resource Center, Charles knew he wanted to be involved. Through the Mercury News, Charles was able to share his story about returning to college and how important textbook vouchers are to helping student veterans make ends meet. In total, $17,000 was raised through the Wishbook to help veterans purchase textbooks.
Now that he's found his way as a Foothill College student, Charles feels comfortable advising fellow veterans. "Find a place that fits for you," he tells them. "I knew once I visited Foothill and checked out the Veterans Resource Center that it was a fit for me. Find that place that makes you work harder and supports you because it will help you succeed."