Former MLB player steps up to the plate
Former Major League baseball player Sandy Wihtol grew up in Cupertino and works as a real estate agent in Los Altos. He's always been active in the community, most notably spending 16 seasons coaching the Los Altos High School baseball team.
His lifelong love of baseball is responsible for his newest volunteer job and project: fundraiser-in-chief to mobilize the community behind a program he feels strongly about – De Anza baseball.
As fundraising chair of the De Anza Baseball Campaign, Sandy's goal is to enlist the community in helping the college's new head baseball coach revitalize De Anza's baseball program. The campaign is raising funds to improve the baseball field, dugouts, and batting cages.
Baseball has always been a part of Sandy's life, from Little League to high school and beyond. While attending Homestead High School in Cupertino, Sandy watched his older brother Al play baseball at Foothill College and then move on to play for the Mets' organization.
At Homestead, Sandy played for former coach Jim Hemphill, who turned out to be a life-long mentor. Drafted by the Kansas City Royals out of high school, Sandy knew he needed to get a college education. So he turned the Royals down and ultimately decided to attend Washington State University, where he had a full scholarship.
Unfortunately his first semester at Washington State got off to a rough start when he became ill with mononucleosis in the first two weeks. He had difficulty adjusting and chose to return home after a year.
Faced with the choice of what to do next, and knowing he wanted to continue playing baseball, Sandy reached out to De Anza Coach Ed Bressoud. Coach Bressoud– or "the professor," as the team liked to call him – was known for his skill at breaking down the game for players so they could play at the next level.
During Sandy's years playing for De Anza, he was reunited with his old high school mentor Jim Hemphill, who then was helping coach baseball at the college. Unknown to Sandy at the time, his relationship with Hemphill would become a turning point later in his life. Even now, he makes a point of calling Hemphill and Bressoud on Father's Day.
Two years after Sandy began playing at De Anza, the Cleveland Indians drafted him and he had a successful professional career that last for nine seasons.
His days as a professional player ended after he broke his elbow on April Fools' Day 1984. It was time to figure out what came next.
"Luckily, due to my time at De Anza, I was able to get a job with Jim Hemphill, who was a realtor in the area," Sandy said. "He served as my mentor once again as I grew into my career as a real estate agent."
For Sandy, this is a prime example of why the opportunity to play college baseball is not just about the game, but the opportunities and lessons it gives the players.
"Baseball is an opportunity for players to connect with educators, community members, and friends," he said. "The connections they make while playing will last their whole life."
As evidence, he points to the dedicated group of former players who've banded together in support of the De Anza Baseball Campaign.
Sandy and former fellow players are rallying around Erick Raich, De Anza's new head baseball coach, who is actively re-energizing the program. The immediate goal of the De Anza Baseball Campaign is to raise $150,000 by the end of the year for some immediate repairs to the field, batting cages and dugouts. Ultimately, the goal is to build a brand new stadium for future student athletes by the Spring 2017, with support from the community.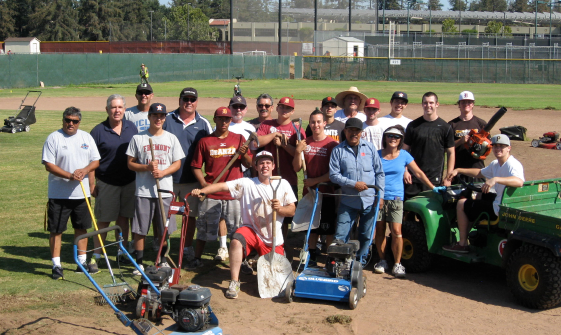 Former and current De Anza Baseball players, staff and faculty after a day of repairing the infield this August.
Sandy never regrets his decision to come to De Anza, as it was one of his defining life experiences. This is why, 40 years after his last game as a De Anza Don, he's dedicating time and energy to helping the De Anza baseball program grow.
"Baseball is such an important part of players' lives," he said. "And oftentimes, the only opportunity they have to play at a collegiate level is to start playing with a local community college.
"The more community college programs are available, the more players in the area we can support. Coming to De Anza, players will get a great education and the opportunity to continue their dream of playing."
Join new head coach Erick Raich and his coaching staff for a De Anza baseball Alumni vs. Alumni game on Saturday January 24, starting at 1 p.m. at the De Anza baseball field. The game will be followed by a special season kick-off dinner starting at 5 p.m. at the Hotel Los Gatos, celebrating the De Anza Baseball program and the start of the 2015 season. The game is free and tickets for the dinner start at $50 and include hosted beer and wine and dinner. Proceeds will benefit the De Anza Field Renewal project. You can sign up here or download the invitation and mail in your RSVP.
If you are interested in supporting De Anza Baseball, please consider joining the De Anza Diamonds Dons Club by completing this form.
Are you a former De Anza baseball player? Join the Facebook page to get updates and connect with your former teammates: Here
For more about the De Anza Baseball Campaign, please contact Robin Lyssenko at the Foundation at 650.949.6233 or lyssenko@fhda.edu