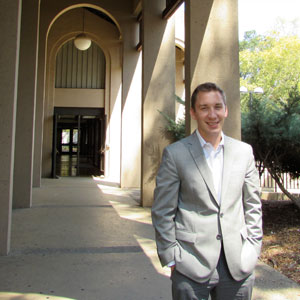 Patrick Ahrens at De Anza College
Former Student Trustee makes a career serving his community
De Anza College graduate Patrick Ahrens is passionate about public service. One of the first classes he took at De Anza was Political Science 1, an American government and politics taught by Professor Nicky Gonzalez Yuen. He says he was inspired not only by the class and Professor Yuen, but by
De Anza itself.
"No matter what class I took, whether it was a politics class or a science class, embedded within was the importance of giving back," Ahrens said, "of engaging with your community and most of all, the importance of being a public servant."
Civic engagement is at the core of the De Anza experience. To express its importance, President Brian Murphy established the Institute of Community and Civic Engagement, which works to empower students to become agents of change in their communities and beyond. The support and advocacy shown by college leaders inspired Patrick to become deeply engaged with his college and community.
"De Anza helped me foster the foundational skills I needed to succeed," Patrick said. "It gave me the tools I needed to get me where I wanted to go, and helped me figure out what I wanted in the process."
It was at De Anza that Patrick realized that he could make a career doing what he loved, starting with service as De Anza's elected student representative to the Foothill-De Anza Community College District's Board of Trustees.
In recent years, Patrick worked as a district representative for former California Assembly member Paul Fong, helping him stay up to date on district events while the Legislature was in session. Patrick also helped constituents in the district find information and solutions, often working with other area government and
non-profit agencies.
Fong has high praise for his former aide. "Patrick has been an incredible asset to our office in his capacity as one of my district representatives," he said. "I know that Patrick serves as a role model for current students, and I was proud to have him on my staff."
Since the election in November 2014 Patrick has a new role, as a senior district representative for Fong's successor, California Assembly member Evan Low.
When asked what he thought his greatest accomplishment has been so far, Patrick said, "realizing my dedication to public service. Helping people every day in my job is both rewarding and fulfilling. I get to make a difference in my community."
Patrick received a bachelor's degree in political science from the University of California, Los Angeles, in 2011, after attending De Anza from 2007 to 2009. He credits the faculty and staff at De Anza for his ability to transfer in two years and succeed at UCLA.
"The accessibility of the instructors at De Anza was phenomenal," Patrick said. "Many of them had their personal cell phone numbers on the syllabus. I knew if I ever had a question that they would be available."
After graduating from UCLA he became a congressional staff member in Washington D.C. Yet during three years on Capitol Hill he always felt the pull of local governance.
"I wanted to feel a stronger sense of a public mission, and I wanted the opportunity to interact with the constituents I was representing," he said. Patrick had worked with Assembly member Fong when they were both part of the Board of Trustees and they'd kept in touch after Patrick left the area.
Patrick's advice to current students and young alumni is to stay involved.
"There are so many opportunities at De Anza to participate," he said, "but you have to take the first step, you have to raise your hand."