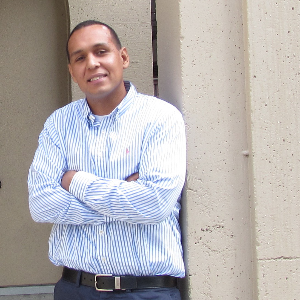 Jesus Ruelas outside his office at De Anza College
De ANza Alumnus Comes Full Circle
Jesus Ruelas is passionate about higher education, and passionate about helping others. A De Anza alumnus, Ruelas is now an academic advisor at De Anza and his journey to that position demonstrates the value of retention programs on the De Anza College campus.
"My path to De Anza started with my little sister," Ruelas said. "After I graduated high school I took on various odd jobs, worked in construction. But it wasn't consistent work. Meanwhile, my little sister had just graduated high school and decided to go to De Anza. On the day she was going to new student orientation she said I should come with her."
This choice proved to be the catalyst that catapulted Ruelas into higher education and his eventual career.
At the new student orientation Jesus met a staff member named Patty Burgos from the First Year Experience (FYE) program at De Anza. Part of Student Success and Retention Services at De Anza, FYE addresses historical and institutional inequities that result in achievement gaps for underserved students. The program fosters a community of learners and leaders using targeted services and approaches to increase student retention and persistence, leading to improved graduation and transfer rates.
"Going back to school was one of the most difficult things I've done," Ruelas recalled. "I had to face my fears about getting back into the classroom, as I was not a good student in high school. I was worried because I had been out of school for so long. Patty made me feel comfortable with that fact, and confident that could still be successful in spite of having taken a break from school."
Ruelas recognizes that without retention programs like First Year Experience and others designed to help at-risk students, he would not have been successful.
"These programs made me feel welcome, and gave me a sense of belonging right from the start of classes," he said. "I knew I had people on campus who I could go to if I had questions; I automatically had a network of advocates who were teaching me how to advocate for myself and navigate an educational institution."
He began to enjoy school, sitting in the front row of his classes and engaging with professors over their class material.
"The best part about going back to school for me was the positive feedback I received from my professors about my work," Ruelas said. "It gave me confidence, not only with schoolwork but in all aspects of my life. I felt more confident becoming a part of my children's education, and helping other students on campus."
Ruelas said that when he first started at De Anza, he had no intention of transferring to a four-year university. "I thought I was just going to get my associate of arts degree and then try to get a job."
However, as he continued on at De Anza his advisors in the EOPS & FYE program encouraged him to transfer. EOPS – Extended Opportunities Program & Services –helps educationally and financially disadvantaged students be successful in college, and students in the program at De Anza have excellent university transfer rates.
"I had the grades," Ruelas said. "I had taken a great sociology class with Professor Jennifer Mhyre and I realized that I really wanted to continue to study sociology."
Ruelas ended up transferring to the University of California, Santa Cruz, where he received a dual bachelor's degree in Sociology and Latino and Latin American studies.
"After I left De Anza I knew in order to be successful I needed to be involved and stand out," Ruelas said. "I also wanted to have a positive impact on others. Working part time with various student services on the UCSC campus helped me do that."
At UCSC, Ruelas took all that he learned at De Anza and applied it to a larger university. He said, "All the help and guidance I received at De Anza I wanted to give back." At De Anza he had been a peer-advisor to other First Year Experience students. He became involved in similar programs at UCSC because he wanted to assist other students who were asking same questions he had.
Ruelas recognizes that his experience at De Anza led him to want to help others. "There are so many individuals out there who are just like I was," he said. "I never stop sharing the resources I know about with others. If someone I run into even mentions they want to go back to school I'm able to share with them the variety of resources I used to do just that."
As for his role as an academic advisor Ruelas said, "I get to work with students every day and help them become successful. I couldn't be happier."