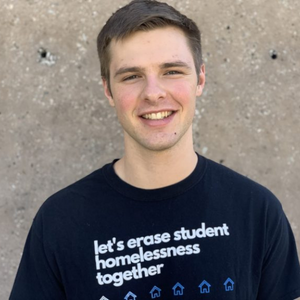 Matt Bodo
Foothill Alum Matt Bodo Highlights the Importance of Student Basic Needs
While attending Foothill College, alumnus Matt Bodo faced down obstacles familiar to many current students: housing and food insecurity.
Now a transfer student at UCLA, Bodo recently spoke from his dorm room with Foothill-De Anza Foundation Executive Director Dennis Cima about how the essential support services he received at Foothill College helped him get to where he is today. He expressed appreciation for everything from scholarships and emergency grants to counseling and other assistance through Foothill's Extended Opportunity Programs and Services (EOPS). These are topics that matter a great deal to Matt, as well as to many other community college students and their supporters.
"I cannot put into words how much community college has changed my life," Matt said. "There's not a moment before Foothill that I would have pictured myself where I am now and as happy and, by my own definition, as successful as I am."
Matt stresses the importance of meeting students' basic needs for food and housing as a key to student success. He said the resources made available to him at Foothill College enabled him to stay in school, complete his studies, and transfer to UCLA, where he is majoring in linguistics and psychology.
According to the American Association of Community Colleges, 46% of all undergraduates in the U.S. are enrolled in a community college. Many of these students are the first in their families to attend college and aren't familiar with the variety of expenses that come with college life. The cost of food and housing combined with unexpected living expenses can leave students having to choose between adequate nutrition, paying the rent, buying books or even staying in school. For Foothill and De Anza students, the high cost of living in Silicon Valley makes going to college a challenge.
A recent survey of Foothill students asked, "What issues are a significant concern where your ability to remain enrolled and/or be successful in your classes may be affected?" Most students responded that "reliable finances" was their greatest concern. For so many Foothill-De Anza students, paying for housing, food and healthcare is the greatest barrier to staying enrolled and finishing their education.
Matt's experience at Foothill College highlights the importance of meeting students' basic needs as well as the value that our community colleges bring to students' lives. Foothill and De Anza colleges serve as safe places where students can lean on others for moral and financial support.
"I'm proud to say I'm a Foothill alum, and I don't know if it would have been possible without the support of donors," Matt said. "It can make the difference for a student being able to graduate and transfer, or not."
The Foothill-De Anza Foundation and its donors have supported students for many years with grants, special programs, and scholarships. It is this kind of direct support to students that helps
them overcome obstacles and succeed. At a time when students are facing high levels of financial hardship, the foundation is excited to lead the Hope Initiative to help as many students as possible with their basic needs in order to reach their educational potential.
With support from the community college district's board of trustees, faculty, staff and administrators, the Foothill-De Anza Foundation Board of Directors is taking the lead to raise an additional $3 million over three years to support students' basic needs.
"As president of the Foothill-De Anza Foundation, I'm proud that we launched the
Hope Initiative to help more students like Matt achieve their dreams," said board President Rimi Bewtra. "Foothill and De Anza are Silicon Valley's educational cornerstones. By raising funds for basic needs, students can focus on college and career. We are honored to help meet the demands for an educated workforce in our region and give every student, no matter their economic status, an opportunity to reach their educational goals."